Mechanical switches are generally known for their clicky-clacky sound which is most commonly seen in the Clicky switches.
However, these noisy keyboard switches are not suitable for working in silent places as they may bother others nearby.
To solve this problem, there are mechanical switches that are quiet and would not bother anyone around. Still, you get the performance, and durability of the mechanical switches.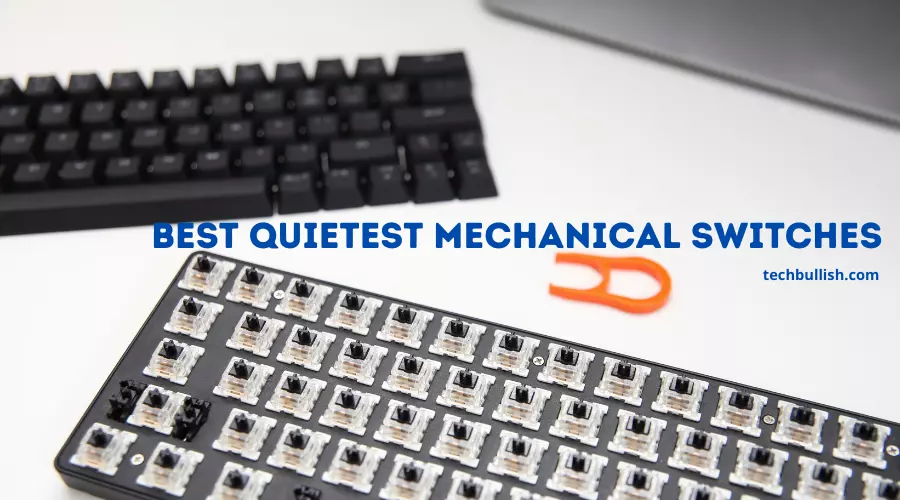 Let's get started!
What Are Silent Mechanical Keyboard Switches?
Silent mechanical switches are a type of mechanical switch for your mechanical keyboard that is designed to be quieter than traditional mechanical switches.
They use a different spring-loaded mechanism to actuate the switch, which results in a softer, quieter keypress.
E.g. Linear Type of Mechanical Switches
What are the benefits of Quiet Mechanical Keyboard Switches?
Everyone dreams of a smooth and quiet typing session, especially if you might be working or gaming late at night. Imagine how much disturbance you will cause to people if you are using noisy keyboard switches.
There are a few benefits of silent mechanical switches:
1) The silent mechanical switches are ideal for gamers who want to minimize noise while gaming.
2) They are also great for office workers or students who need to be able to type quietly.
3) They can provide a more comfortable typing experience since the softer keypresses can reduce hand fatigue.
Therefore, it is advisable to always use the quietest typing keyboards for the sake of the people around you while you are working or gaming.
Factors to choose Silent Mechanical Switches Keyboard
First, I would discuss how to choose silent mechanical switches for you and then come to choosing a silent keyboard.
Choosing Quiet Switches
1. Actuation Force
Actuation force is very important to consider while choosing a quiet switch.
But you may think "What is Actuation Force?" This is the amount of pressure required to activate the mechanical switch.
This actuation force varies from switch to switch. So, some switches require less force, while others require more. You'll want to choose switches that require a force that is comfortable for you to use.
If you want a light, responsive switch, you'll want a low actuation force. However, if you're looking for a switch that can withstand heavy use, you'll want a higher actuation force.
2. Switch Lifespan
In addition to the actuation force, you'll also want to consider the switch's lifespan.
This is important to keep in mind, as some switches may only have a lifespan of a few hundred thousand cycles, while others may be rated for millions of cycles.
Choose a switch with a lifespan that meets or exceeds your needs to ensure it will last for as long as you need it.
3. Price Point
Finally, you'll also want to consider the price of the switch when making your decision.
In general, higher-quality switches will cost more, but they'll also last longer and provide a better overall experience.
Choose the switch that provides the best value for your money, and don't be afraid to spend a little extra to get a switch that will last.
Choosing Quiet Switch Keyboard
1. The Switches
These are the first things to look at; you have to decide whether you need silent or loud switches.
However, choose the silent ones to avoid limiting you from using them anytime and anywhere.
2. The Stabilizers
How are the stabilizers? Can they balance the larger keys? Some things to confirm, ensure you choose keyboards with the best stabilizers balancing every key on your board.
3. The Desk Surface Area
Where will you be using the keyboard at? The surface of your desk sometimes determines the amount of noise to expect. However, you can minimize this by using a desk mat.
Best Quietest Mechanical Keyboard Switches
The following are the quietest mechanical keyboard switches and everything you should know about them.
This will help you know which one to choose for your use in working or gaming.
#1. Cherry MX Silent Red
This is a silent, light, and very linear key switch known to be the best for typing. They are made with noise reduction features that minimize any noises when you use the keyboard.
This appears at the top of the list among all the mechanical keyboard switches as the most silent one. It is the best choice for anyone looking for something silent they can use in the office.
Pros
Reliable
High quality
Quietest
Best for both gaming and typing
Cons
Why should you choose this?
You probably need this keyboard because it is smooth and feels satisfying from the first time you use it, whether for gaming or typing.
Therefore, if you are looking for something smooth, this is precisely what you should go for; they give you precisely what you need.
My experience
Based on the brand you choose, expect differences when it comes to scratchiness, as some brands offer more scratchy keyboards.
However, I had the best experience with this keyboard and recommended it to anyone.
#2. Cherry MX Silent Black
The Cherry MX Silent Black is similar to the usual blacks; however, they are equipped with noise dampeners at the end of each movement, making them quiet while in use or operation and bringing about a smoother feel.
They are the perfect choice for gaming in your house as they do not produce any noise or even typing in the office or any other silent environment.
Pros
quieter
simple
compatible for both mac and pc
elegant design
Cons
Why should you choose this?
For high and low-speed typists, this is what you need, and it gives the best performance for gamers due to their high actuation force and short travel.
If you are an FPS games lover, this is the best option.
My experience
I liked them because they are quieter and gave me a smoother use while typing. I would recommend this to anyone planning to use them in an office or at home late at night for games.
#3. Gateron Silent Red
These switches tend to be scratchy; however, this shall not stop you from exploring and seeing their brighter side. Compared to the silent brown ones, these are quieter and should be your option.
Pros
Silent
Cheaper
Full travel distance
Cons
Why should you choose this?
The primary and only reason we should choose the Gateron Silent Red is that they are quieter and cheaper.
Moreover, they perform better while typing and gaming, except that they are scratchy and sometimes they tend to slide.
My experience
When I bought them, I had a lot of expectations they didn't meet in the first place. They don't look so impressive, but they sound good.
If you are flexible, you can use them for gaming and typing in any environment.
#4. Matias Quiet Linear
The Matias Quiet Linear is made with small dampers inside it, making it among the quietest keyboard switches. It is smoother to use when compared to all the other switches.
However, it appears to be slightly heavier than the MX types.
Pros
Quiet
Smooth
Comfortable
Convenient
Cons
Why should you choose this?
The Matias Quiet Linear tends to be more silent than the other mechanical keyboards.
They produce the same sound level as the regular non-mechanical keyboard; the small internal rubber sound dampeners make them silent while using.
Therefore, you should choose the Matias Quiet Linear because of its silence and convenience. Thus, they are a good option at an affordable cost.
My experience
I have used the Matias Quiet Linear, but not much; however, I can say that they are good because they are quieter and smoother in that they give you the flow you need while typing or gaming.
I got not have much information or experience from them; they are affordable in the market.
#5. ZealPC Zilents
ZealPC Zilents are among the nicest switches anyone would use; they are silent with the best travel you will ever experience.
Moreover, unlike others, they are less sticky and make your operation worthwhile and smooth.
Also, they have kept the original tactility of Zealios; for both downstroke and upstroke, you will have absolutely no noise.
Pros
Silent
Smooth
Full travel distance
Zealios housing adds more to the smoothness
Cons
Relatively expensive
Sticky when not lubed
Why should you choose this?
They are certainly the best option due to their smoothness and performance.
As much as they need lube to facilitate their performance, you will like them because they give you everything you need and meet your expectations.
My experience
First, I started using the switches dry without lubing them, which I felt wasn't bad.
However, after using it for some time, I started feeling some resistance which meant that they needed lubrication.
The switches feel smooth from the time go, and they have minimal noise while operating. However, I can say that they work better with lube.
#6. ZealPC Healios
The ZealPC Healios is very smooth for both the heavy switch and lighter switch lover; this is something you need for sure.
They are consistent, quiet, and smooth; this fits the features of what you need most for your gaming and typing.
However, for them to work effectively, they need to be lubed to be less resistant.
Pros
Silent
Smooth
Consistent and convenient
Cons
Why should you choose this?
You should consider using ZealPC Healios because of its smoothness, especially after lubing it.
Also, it is convenient in that it can be used for both typing and gaming. Moreover, they are silent, a feature most people are looking for before buying the switches.
My experience
I honestly didn't have a good experience with the switch because the first moment I touched it was scratchy, which worsened after lubing.
I don't know about others, or maybe my lubing skills weren't good enough, but I would not recommend it to anyone.
#7. Gateron Silent Black
If you need a quiet and smooth switch, this is what you need. Moreover, it feels very nice as it is not much different from the silent cherry black.
Pros
Nice switch feeling
Smooth
Quiet
Cons
Why should you choose this?
These switches are designed with rubber dampeners that make them silent while using; they are also smooth, even without lubing making them worth buying.
However, they are expensive in the market the experience they will give is worth every penny you spend on them.
My experience
When I compared them with the other Gateron switches, they are still the best. I like the smooth and nice feel together with its natural smoothness.
I would these to anyone who wants the same experience; I didn't regret spending much on them.
Best Quietest Mechanical Gaming keyboards
The following are the top 5 quietest mechanical gaming keyboards you should know about to decide which one to use:
#1. Corsair K68 RGB Mechanical Gaming Keyboards
This is an excellent gaming keyboard; it is made with blue tactile switches, providing clear and loud feedback.
It is a feature most people have; the keyboards are built with RGB lighting making the keyboard more versatile for gaming.
Pros
Dedicated media keys
Fantastic design
Customizable options
An amazing typing experience
Cons
Why should you choose this?
Consider choosing the Corsair K68 RGB Mechanical Gaming Keyboard because it is silent and efficiently meets all your needs in one.
The design is made with a wrist rest as well as incline settings. Also, it is silent, and you do not have to worry about anything, even if you are gaming late at night.
My experience
I used the Corsair K68 RGB Mechanical Gaming Keyboard exceptionally for gaming, and I can say that I was amazed.
The many customizable options made my experience better, and I would recommend them to anyone.
#2. Ducky One 2 Mini (Cherry MX Silent Red or Silent Black variant)
These are high-quality mechanical keyboards you can ever get access to. Everything about them is just excellent.
Both the cherry MX Silent Red and Silent Black are silent and smooth to use while working or gaming.
Pros
Well-built
In available in various designs
Customizable RGB lighting
Macro-programmable keys
Cons
Why should you choose this?
The mechanical keyboard is perfect for gaming; however, it has high latency, making it less desirable for high-paced gamers.
They are silent and equipped with every desirable feature you need in your gaming keyboard.
My experience
I can say that I had the best gaming experience with this keyboard; however, the difficulties I had were required to be fast while gaming. But it is the best suggestion for beginners.
#3. Leopold FC980M Mechanical Keyboard
The Leopold FC980M Mechanical Keyboard is a fantastic keyboard you should get yourself.
Its layout is Cherry G80-1800 inspired, with a well-built design allowing users to get efficiency while gaming or using the keyboard.
Pros
Great layout
Well-built
Best for typing and gaming
Cons
Why should you choose this?
They are smooth and less scratchy, thus making your experience for both gaming and typing great.
With this keyboard, do you not need to lube anything to achieve smoothness; you naturally get it.
My experience
I like that they give you everything you expect from the first moment you touch them.
I used the MX black, and to be honest, they were smooth and gave me the best gaming experience ever, so I would recommend you get them.
#4. SteelSeries Apex 7 Mechanical Gaming Keyboard
This is a unique TenKeyLess gaming keyboard made with the most desirable features.
Equipped with full RGB backlighting, OLED screens, and macro-programmable keys, these features make your gaming interesting as you will not be limited anywhere when gaming.
Pros
Well-built
Low latency
Perfect gaming features
Cons
The wrist rest easily attracts dust
Why should you choose this?
The excellent and unique features make it the best option for you; it is made to need the expectations and needs of any gamer.
It is easy to use and has no challenges as you can easily access all the gaming settings with the keyboard.
My experience
I generally had the best experience with the keyboard; the only thing you need to be careful about is the wrist rest. It easily attracts dust, and thus you should always clean it.
#5. Matias FK302QPC Quiet Pro Keyboard
The keyboard is not completely quiet, but it makes less noise than many other switched keyboards.
Pros
Quiet
Great feeling
Mac-friendly function keys
Three USB ports
Cons
Produces a loud sound than the membrane keyboard
Why should you choose this?
It can be your best option as you can openly use it for gaming and typing, meaning at home or even at work, without fear of disturbing anyone around you.
My experience
It is easy to use, and I can honestly say that I had a more incredible experience with the keyboard.
How can you Make Your Mechanical Keyboards Quieter?
Mechanical keyboards with clicking switches sometimes become loud; here is how you should make them quieter:
1. Lube your switches
Lubing will improve your keyboard's feel and reduce any form of scratchiness; however, you should use the proper lubricant in the switches to reduce friction.
2. O-ring Rubber for keyboard switches
O-ring Rubbers are the simplest ways to reduce noise on your switches; install these rings on the switches' stem under the keycaps.
3. Make Use of a Desk Mat
Putting a desk mat under your keyboard is the easiest and cheapest way of reducing their noise.
As it efficiently dampens the vibrations coming from the keyboard and brings about total silence.
4. Replace the Switches
If nothing works for you, then consider replacing your switches with quieter ones of your choice.
Pros of Quiet Mechanical Keyboard
Silent
Great feeling
Well built
Convenient
Easy to use
Cons of Quiet Mechanical Keyboards
Some are scratchy
Others tend to be too expensive
FAQs on the Quietest Mechanical Switches
Q. Which Mechanical key switches are the quietest?
Cherry MX Red or Brown Switches are the quietest.
Q. What is the quietest Razer keyboard?
Razer's Huntsman V2 is the quietest Razer keyboard anyone would ever use.
Q. Are Blue Switches louder?
The Blue switches make a more disturbing clicking sound than the other switches, and this makes it louder and more destructive.
Q. Which Silent Keyboard Switch Should You Go With?
I will always choose Cherry MX Silent Red due to its unique features and simplicity to use in any place at work or even at home.
Conclusion
Let's conclude the post on the quietest mechanical keyboard switches!
Understanding mechanical keyboards are essential to every person, you might not need them for gaming, but you will need them for typing in the office.
Getting the right keyboard makes your experience great and worth it.
I hope you enjoyed reading this post!
Thanks for your feedback!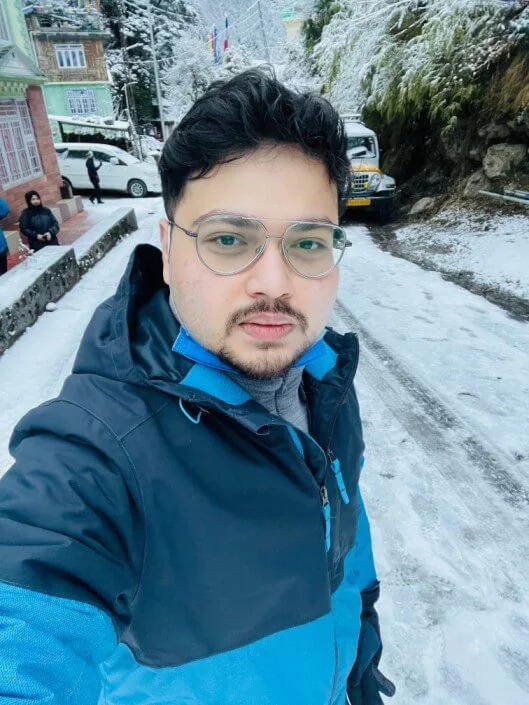 I'm Anirban Saha, Founder & Editor of TechBullish. With a B.Tech in Electronics and Communication Engineering, and 5+ years of experience as a software developer, I have expertise in electronics, software development, gadgets, and computer peripherals. I love sharing my knowledge through informational articles, how-to guides, and troubleshooting tips for Peripherals, Smart TVs, Streaming Solutions, and more here.