When it comes to gaming mice, Razer is one of the top companies in the game.
They have several of the best gaming mice available on the market today and are constantly pushing the limits to improve their products.
However, some gamers are still unfamiliar with the Razer Ouroboros, so this article will focus on the comparison of Razer Ouroboros vs Razer Mamba.
So, what is the difference between the Razer Ouroboros and the Razer Mamba? Is there a difference?
Yes, there are quite a few differences between the Razer Ouroboros and the Razer Mamba.
Razer Ouroboros and Razer Mamba are two of the best gaming mice from Razer.
Let's get started!
Razer Ouroboros vs Razer Mamba
Razer Ouroboros
Razer Mamba Elite
Mouse Type
Wireless Gaming Mouse
Wired Gaming Mouse
Usage
Usable for Right Handed as well as Left-handed users. (Ambidextrous)
Only Right Handed Usage
DPI
8200 DPI
16000 DPI max
Sensor Type
Laser Sensor
Optical Sensor
Dimensions
(Length*Width*Height)
(4.80″-5.39″) x 2.80″ x 1.65″
4.92″ x 2.52″ x 1.70″
Weight
115 g / 0.25 lbs. (without battery) to 135 g / 0.29 lbs. (with battery)
96gm
Cable Type
No Cable as it is Wireless
Standard Braided Cable
Battery Life
12 hours with continuous gaming
Not applicable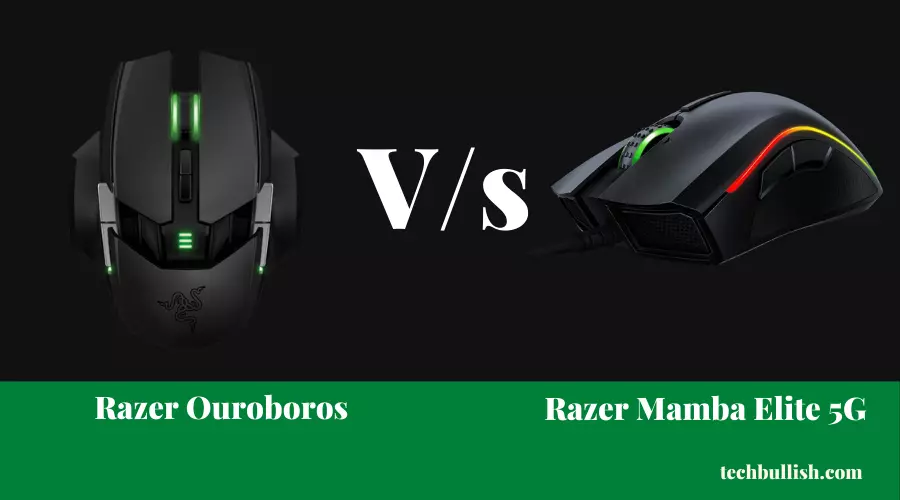 Razer Ouroboros Review
The Razer Ouroboros is an ergonomic, ambidextrous, wireless gaming mouse that adapts to your needs.
It's the ultimate device for gamers who want to customize their mouse for their specific needs and comfort level.
The Razer Ouroboros features a groundbreaking ergonomic design, ambidextrous form, an 8200dpi laser sensor, and an incredible amount of programmable buttons.
You can customize the 11 programmable Hyperesponse buttons using the Synapse 3 software to match your in-game needs with a simple twist of the wheel. You can check the Razer Synapse Macro Guide here.
Ouroboros is designed to stay with you wherever you go. Its ergonomic shape fits perfectly in your hand, so you stay comfortable while you game.
Also, the charge lasts longer, and with continuous gaming, you can have Ouroboros supporting you for 12 hours on a single charge.
The mouse is entirely ambidextrous; it adapts to your needs, so you have the freedom to the game in your preferred grip style.
The Razer Ouroboros is also fully customizable.
Last update on 2023-10-03 / Images from Amazon Product Advertising API
Razer Mamba Elite Review
The Razer Mamba Wired Gaming Mouse takes the gaming mouse capabilities to the next level with a lag-free experience, incredible build, and adaptable ergonomics.
Take gaming to higher levels with the first true 16,000 DPI 5G optical sensor, and extended RGB lighting zones.
With a rubberized scroll wheel and enhanced tracking, this wireless mouse delivers the ultimate competitive edge and a comfortable experience for the most demanding gamers.
Its unique ergonomic design is comfortable to use even during ultra-long gaming sessions.
The Mamba's high-precision Optical sensor tracks at speeds of up to 450 IPS (inches per second) and 50g acceleration, which means every twitch, swipe, and scroll translates into the deadliest moves on the battlefield.
The cable is braided and transmits mouse signals lightning fast.
Last update on 2023-10-03 / Images from Amazon Product Advertising API
Overall, the Razer Mamba is a great wired mouse from Razer and has good performance without any lags.
Durability
Razer Ouroboros and Razer Mamba are the two best gaming mice for Razer. The Razer Ouroboros is one of the most comfortable wireless gaming mice ever created.
If you want to enjoy the wireless gaming mouse without any problems, then Ouroboros is for you.
The Razer Ouroboros is a wireless gaming mouse used for gaming on the go. Razer Ouroboros has many features, and this mouse is very comfortable to use.
This wireless gaming mouse is very durable and has a lovely design.
The Ouroboros is a little more expensive than the Mamba, but it is worth the price.
The Razer Mamba is another excellent gaming mouse produced by the Razer company, and it is a wired mouse used for gaming.
This mouse is very comfortable to use and has a great design.
The Mamba Elite is also very durable and has a lot of features. You don't need to worry during extensive gaming sessions on either Mamba or Ouroboros, as they can easily handle intensive gaming.
Design
The Ouroboros comes with an Ambidextrous design that suits right and left-handed people.
The curvature of the mouse fits into the hand well and is very comfortable too.
The Razer Ouroboros design looks beautiful, and this is what I keep looking at with a gaming mouse.
I am impressed by Razer Ouroboros' design more than Mamba's design.
The Mamba is a Wired gaming mouse with a right-handed ergonomic design, which means that it is built to be used by right-handed gamers.
The buttons are reachable and are placed very well for both the Ouroboros and the Razer Mamba Elite.
Performance
Razer Ouroboros and Razer Mamba Elite are the two gaming mice from Razer.
They are both Razer mice with a focus on gaming and performance.
Although the two Razer gaming mice might look identical, there are some significant differences between the two.
Razer Ouroboros is one of the most popular gaming mice from Razer.
It is designed for gamers looking for a well-rounded mouse, and it has an ambidextrous design and a DPI range of 100 to 16,000.
The mouse also comes with a dedicated DPI on the mouse wheel to enable users to change DPI on the fly.
Razer Mamba is a purebred gaming mouse, and it is more suitable for professional gamers looking for a mouse to play competitive games. It has a DPI range of 200 to 8,200 and a 1-millisecond report rate.
Which is better between Razer Ouroboros and Razer Mamba?
The competition between the two is neck to neck. Still, I prefer Wired over Wireless for Competitive Gaming.
If you are a fan of Old school-wired mice, then the Razer Mamba is consistent and dependable at any point.
Also, Mamba can be used by Right-handed persons only, and another factor is Mamba elite is much lighter with a weight of 96 gm compared to 135g Ouroboros with battery.
Last update on 2023-10-03 / Images from Amazon Product Advertising API
I would recommend the Wireless Razer Ouroboros for Competitive gaming also, and it performs very well.
Also, I would recommend Ouroboros over Mamba if you are a left-handed user.
Last update on 2023-10-03 / Images from Amazon Product Advertising API
Can the Razer Mamba Elite drag click?
The Razer Mamba Elite Mouse fits well in the hands, and you can use it extensively for gaming.
In terms of clicking, if you use the Razer Mamba Elite to double-click, then you cannot easily do so.
You cannot change the debounce time(time the switch does not register your other click) for the Razer Mamba Elite, and you get 8-10 CPS while clicking.
Also, the friction on the Mamba Elite switches is not much to improve the CPS.
So, it is not recommended to try Razer Mamba Elite for Drag Clicking, and drag Clicking would be worthwhile if you get High CPS with Drag Clicking.
Is the Razer Mamba Elite worth it?
Razer Mamba Elite is a good design and a great-built mouse from Razer. Razer Mamba Elite has excellent performance for gaming.
The overall value Razer Mamba provides makes it worth the money.
It's hard not to fall in love with a device with the word "elite" in the name.
The Razer Mamba Elite is just that, an elite gaming mouse.
The mouse is wired with a braided cord, which gives it a premium feel and a durable design.
Gamers looking for a reliable mouse that they can rely on can find themselves in love with the Razer Mamba Elite as soon as they take it out of the box and feel its weight.
Whether you are a casual gamer or a professional player, you get what you expect from a Good wired gaming mouse from this Razer Mamba Elite.
How heavy is Razer Ouroboros?
Razer Ouroboros weighs 115 g without battery and weighs about 135 g, including battery weight. So, the Razer Ouroboros is a Heavy Mouse.
Conclusion
Let's conclude the post by comparing Razer Ouroboros vs Razer Mamba.
These are great mice and even comparing these two main factors comes that Mamba is not for left-handed gamers. Otherwise, both are performance-packed.
I hope you enjoyed reading the post.
Thanks for your feedback!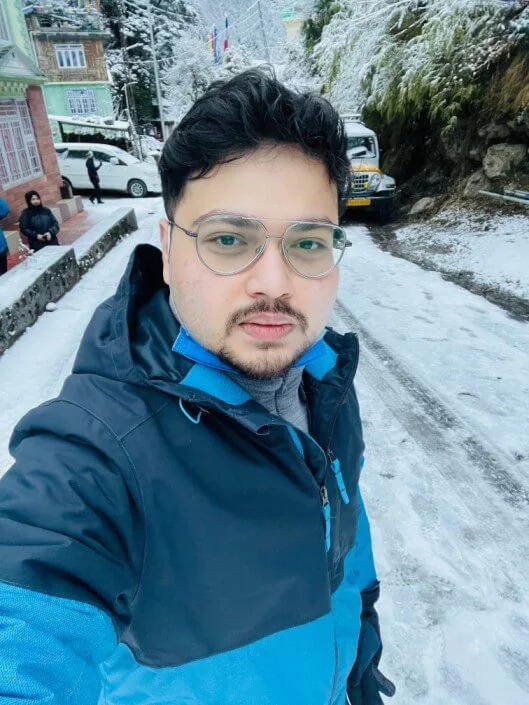 I'm Anirban Saha, Founder & Editor of TechBullish. With a B.Tech in Electronics and Communication Engineering, and 5+ years of experience as a software developer, I have expertise in electronics, software development, gadgets, and computer peripherals. I love sharing my knowledge through informational articles, how-to guides, and troubleshooting tips for Peripherals, Smart TVs, Streaming Solutions, and more here.