A good switch is essential for a great mechanical keyboard. If you are looking to know about the cool-looking C³Equalz Tangerine switches review and complete guide, then you are at the right post.
The Tangerine switches are linear mechanical switches with a silent and smooth feeling as you type.
For those of you looking to know about the C³Equalz Tangerine switches and what they can do for your gaming experience, let's take a look at the review.
These switches are perfect for gamers and typists looking for a linear feel without any clicking noise, as it is made up of Cherry MX compatible switches.
They are also suitable for playing games without much noise as other counterparts and feel smooth.
These switches resemble the color of Tangerines. The design looks interesting with its orange and green color combination.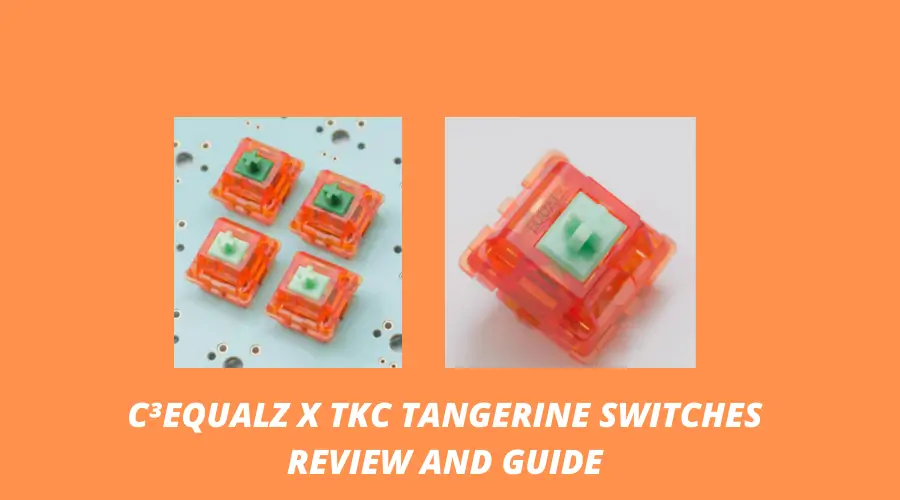 Let's get started!
What are Tangerine Switches?
Tangerine Switches from C³Equalz are the perfect mechanical keyboard switches for gaming, typing and general use. Tangerine Switches from C³Equalz is a custom mechanical keyboard switch. It's a 67g spring, which is a bit heavier. It has a 4mm long and 2mm wide stem, which is excellent for actuation. Its housing is UHMWPE, while the slider is made of POM.
As a mechanical keyboard enthusiast, it's challenging to find a switch you like, so you settle for a compromise that doesn't satisfy you, or you stick to one switch and don't get to enjoy using different switches.
That's why we created C³Equalz, so you can mix and match different switches and create your switches. C³Equalz Tangerine switches are rated for 60 million actuation, and the stems are 4mm long and 2mm wide.
Tangerine Switches Review
Tangerine switches are an excellent option from a linear switch point of view. The switches look like the color combination of a tangerine. As it is linear, it is silent and very smooth to use.
C³ Equalz makes Tangerine switches. These switches are linear and incredibly smooth. Each switch is 67 grams and is made entirely of PBT, which is excellent compared to ABS-built ones.
The housing is UHMWPE, which is very durable and light. The switch is a gold spring.
The tangerine switches come from the fruit lineup of the C³Equalz, like the Kiwi switches and the Banana Split switches.
In the initial impression, this switch looks very attractive to me, and it resembles the tangerine fruit with its color orange.
The switch housing is orange and looks funky, and the switch stem is green.
The switch comes with two type variants: a deep green stem and a light green stem. It would look awesome to be a part of the gaming setup.
Durability
The product's durability is one of the essential things that you need to look for when you are purchasing the keyboard.
It is vital to check the quality of the switches used in the keyboard, and the switches are the main component of the keyboard.
The keyboard can be made of different materials, but if the switches are of low quality, you will have to get them repaired repeatedly.
The tangerine switch is durable and better because its housing is made of Ultra-high-molecular-weight-polyethene (UHMWPE), a subset of thermoplastic polymer that adds strength to the material.
The Tangerines support an actuation of 60 million, which is great to see in mechanical switches.
You can use this switch to play intensive games and type for hours, and it can handle it without any issues. I am impressed by the durability of these switches.
Actuation Force
Actuation force or switch force measures how much force you need to push a switch to trigger it. The force is usually measured in grams.
The Tangerine switches by C3 Equalz have an actuation force of 67g, which is unlikely a bit more than other linear switches. The Red Switch of Cherry MX has an actuation of only 45g. But, it still feels good at this actuation force.
Tangerine Switches Specifications
Switch Type
Linear MX switch
Housing Material
UHMWPE (Ultra-high-molecular-weight polyethylene)
Spring Colour
Gold
Actuation Force
Dark Green Stem: 67g,
Light Green Stem: 62g
Mount Type
PCB
Lubing
Pre-lubed from Factory at a small amount
Number of Pins
5
Pros of Tangerine Switches
Here are the several features of Tangerines that I liked.
They are made by C³Equalz, a good brand for mechanical switches.
Tangerine switches are inspired by some of the most popular MX switches, such as the White, Clear, and Greens.
Housing is made of ultra-high-molecular-weight polyethylene (UHMWPE), a unique plastic material with better performance than other ordinary plastics, such as POM.
Cons of Tangerine Switches
The actuation force could have been a bit lower.
Tangerine Switch Sound Test
Tangerine switches are linear, smooth switches of the silent variety. This means that when you press the key, you get a smooth keypress, and when you let go of the key, you get a smooth key up.
You can find the sound test of the tangerine switch in the video below.
My Overall View
The two types of tangerines available from C³Equalz are one having a dark green stem and the other one with a light green stem.
The dark green stem differs from the light green one only by the Actuation force for the clicks. The light green stem switch feels easier to click than the dark green tangerine switch.
Both are very smooth in usage, and during typing, you would love the experience.
The clicks are silent and so smooth that you expect to be present in a good-quality linear switch. The quality of the tangerines feels good and does not look cheap.
Being a linear switch, it meets my expectations with its smoothness and performance. I feel it is closer to the Red linear, but more of the actuation force is required for these switches.
So, if you're looking for a silent mechanical keyboard, or if you're looking for a quieter switch for your already existing mechanical keyboard, the tangerine switch is a solid option.
Are Tangerine Switches good?
Tangerine switches are specially designed for mechanical keyboards with their low-profile design, and Tangerine switches are quiet and silent.
Tangerine switches are good for a gamer and a programmer to help with faster and smoother clicks on the keyboard.
Tangerine switches can perform excellently in gaming when it is to be done, even for hours long.
Where to buy Tangerine Switches?
Tangerine switches are among the most sought-after switches for a mechanical keyboard. If you're going to buy tangerine switches, you need to buy them from the right switch store.
Below are some of the best stores from where you can buy tangerine switches:
The Key dot company,
AliExpress
Switch Keys
How many Tangerine Switches do you need for your keyboard?
The number of Tangerine Switches required for your mechanical keyboard can differ according to your keyboard's size, whether a full-sized one or 80% keyboards, 65% keyboards, 60% keyboards, or even 40% keyboards.
Here is the average switch count for different sizes of mechanical switches below:
| | |
| --- | --- |
| Keyboard Type | Number of Switches |
| Full-Size Keyboard | 104 |
| 96% keyboards | 103-104 |
| Tenkeyless | 87 |
| 75% keyboard | 80-84 |
| 65% keyboard | 68 |
| 60% keyboard | 61 |
| 40% keyboard | 40-44 |
You can refer to the keyboard specification to find the exact number of switches for your keyboard.
FAQs: C3 Equalz Tangerine Switches
Q1. What kind of switches are Tangerines?
Ans: The Tangerine Switches are linear types of mechanical switches. So, the switches are very silent and smooth to use.
Q2. Are Tangerine Switches lubed?
Ans: The Tangerine switches are pre-lubed from the factory with a very light application.
So, you don't need to lube this switch when received separately. Out of the box, it works smoothly with the pre-lube that it comes with from the factory.
Q3. Are Tangerine Switches Hot-Swappable?
Ans: The tangerine switches are hot-swappable and can be fitted to any keyboard with a PCB mount. It can be easily mounted to the keyboard.
Q4. Are C3 Tangerines JWK?
Ans: The C3 tangerines are designed by the C³Equalz and manufactured by JWK.
Q5. Are Tangerine Switches Five Pins?
Ans: Tangerine switches have five pins. These fit into keyboards that support PCB mount switches and are five-pin compatible.
If your keyboard is not five-pin compatible, you can clip the extra pins(two smaller plastic pins) on the tangerine switches and then mount them on your keyboard.
Conclusion
Let's conclude the Tangerine Switches review and a complete guide.
The Tangerine switches are one of the best among the linear switches in the market for mechanical keyboards.
Also, the housing material UHMWPE is rarely found among mechanical switches.
It is highly recommended for a linear switch if you would like to upgrade your mechanical keyboard.
I hope you liked reading this article.
Thanks for your feedback!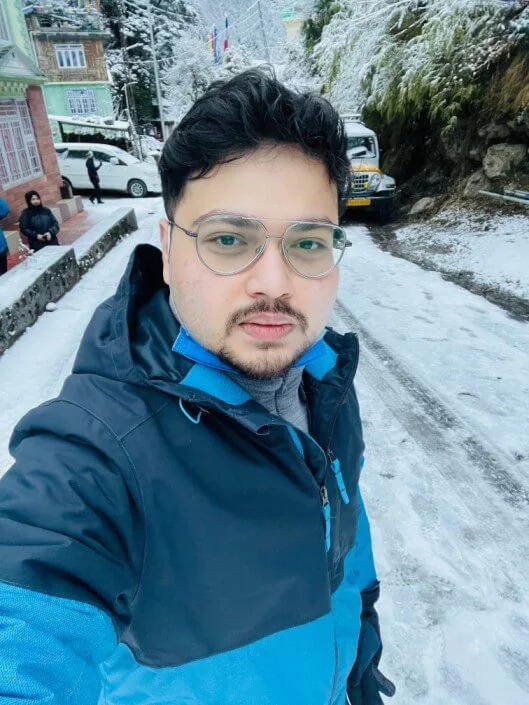 I'm Anirban Saha, Founder & Editor of TechBullish. With a B.Tech in Electronics and Communication Engineering, and 5+ years of experience as a software developer, I have expertise in electronics, software development, gadgets, and computer peripherals. I love sharing my knowledge through informational articles, how-to guides, and troubleshooting tips for Peripherals, Smart TVs, Streaming Solutions, and more here.