Are looking for a Bluetooth keyboard for a tablet or your smartphone?
In that case, Targus has an awesome choice for a keyboard in its wireless keyboard segment.
It features its KB55 which we will review here. Here we have done the Targus KB55 review in detail.
Bluetooth Keyboards look awesome! The best thing is that they won't clutter your desk and can be used on multi-platform.
Bluetooth keyboards are nowadays a must to have a choice considering it's not messing with wires, portability, and multi-device connectivity.
Let's look into how we found Targus KB55.
Let's get started!
Targus KB55 Review
Targus KB55 Bluetooth Keyboard
Summary
After going through all the factors essential in a compact multiplatform keyboard on a budget. It clearly satisfies our needs and helps to pace our daily tasks with ease. Connectivity across multiple devices like laptops, tablets, and smartphones using its Bluetooth feature is very useful. Also in this price range, it is very hard to beat. Targus KB55 is truly a value-for-money product.
Targus Bluetooth keyboard is a multi-platform supported Bluetooth keyboard that supports iOS, Android, Windows (10/8.1/8/7/Vista/XP/2000), and Mac OS platforms.
It has a very sleek design and is very lightweight. Hence, it is very much portable. Now, coming to key type. It has a scissor keys type. Its typing experience is very comfortable and awesome.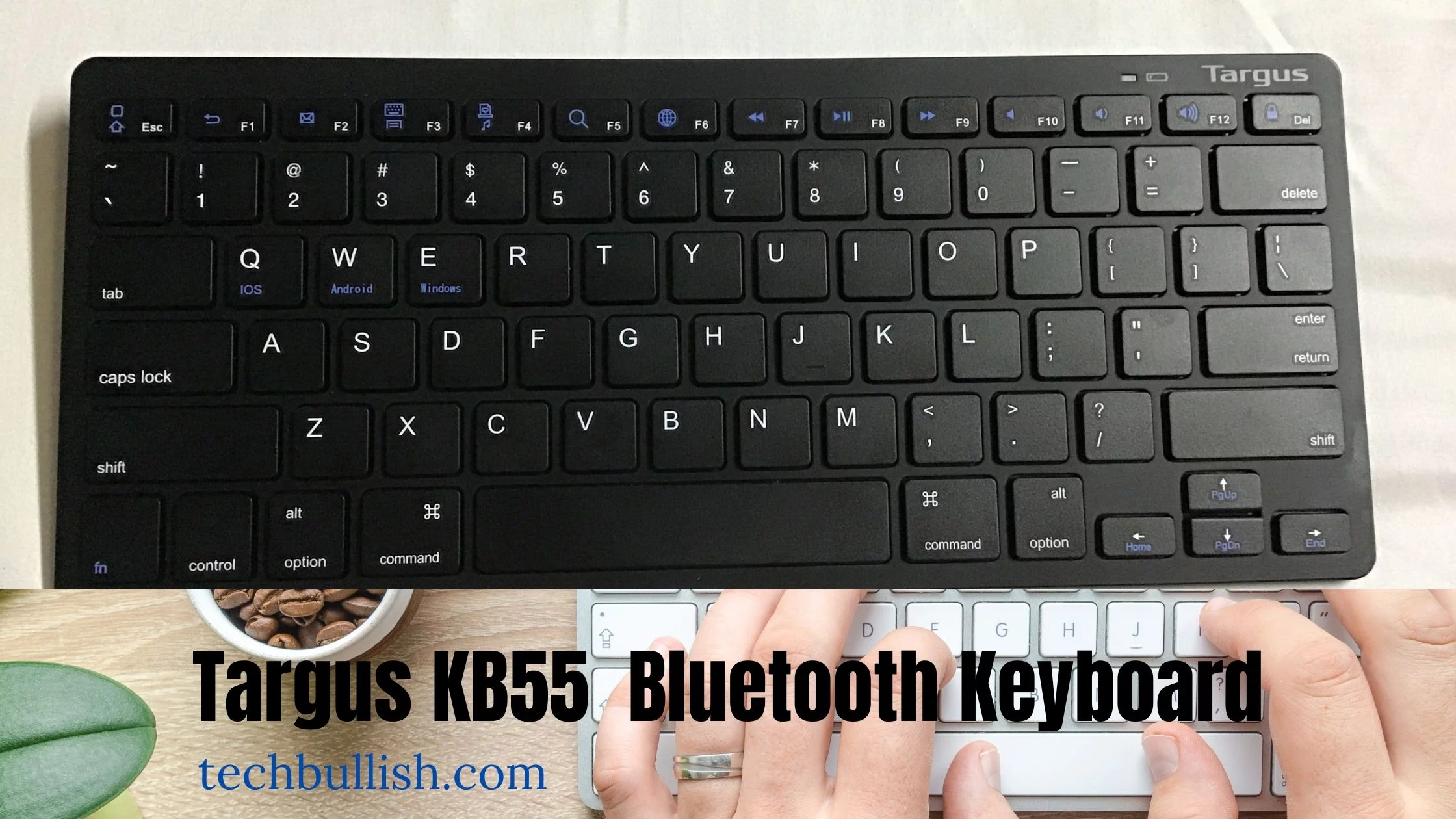 Summary of Targus AKB55TT
Carry the thin KB55 Multi-Platform Bluetooth Keyboard with you anywhere you go.
It is made for traveling and connected to multi-platform devices on the go! Enjoy the comfort of typing with this Targus Bluetooth Keyboard.
Targus Bluetooth keyboard KB55 Specifications
Below is the Technical Specification of the Targus KB55 keyboard:
| | |
| --- | --- |
| Colour | Black |
| Item Height | 120 Centimeters |
| Item Width | 21 Centimeters |
| Included Components | Keyboard and Battery |
| Item Weight | 279 g (Lightweight) |
| Connectivity | Wireless (Bluetooth 3.0) |
| Switch Type | Scissor |
| Design | Slim and Compact |
| Platform Compatibility | Windows, Mac, iOS, and Android |
Targus kb55 multi-platform Bluetooth keyboard KB55 is available in the Amazon store.
Who is Targus Bluetooth Keyboard(KB55) for?
Targus Bluetooth keyboard KB55 is for specific needs like:
Travel Enthusiast:

Many of us love to travel but cannot avoid our regular work. This Targus Keyboard would be handy if you travel and can use it to type on your smartphone.

Gadget Lover or a Multitasker:

We might work on different platforms

like you may save your work on Google Docs on your PC and later continue from your iPad. You would love to use

the Targus Bluetooth keyboard to connect with any device you use that supports Bluetooth.

Web Designer

Bloggers

Travel or Food influencers

Content Creators

Youtubers

and more…
Targus KB55 Multi-Platform Bluetooth Keyboard Unboxing
In this video, find the unboxing and detailed review of the Targus Bluetooth Keyboard. You will get the real feel of the Targus KB55 from this video.
Connectivity
The connectivity of any wireless keyboard is a pretty important factor. It has direct implications for performance.
Targus kb55 Bluetooth keyboard has connectivity using Bluetooth 3.0 wireless connection with 33 ft range.
Hence, we can connect to laptops, smartphones, and tablets (Android or IOS). Though it has Bluetooth 3.0 older technology, its connectivity is good and connects very quickly to the paired devices.
Key type
There are many different types of keyboard key types available in the market. Targus KB55 Keys are scissors-type.
The keys don't make much sound and are very comfortable to use.
Battery Life
It is powered by 2 * AAA batteries which come inside the case. The battery life of this keyboard is excellent.
Box Contents
Targus KB55 box consists of:
Targus Wireless Keyboard
Energizer Battery
Targus Warranty
Warranty is an important factor to look into while purchasing a keyboard. Targus provides a 3-year warranty on the KB55 Bluetooth keyboard.
Read More:
Targus KB55 Pros And Cons
Let's analyze key highlights of the Pros and Cons of this Targus Bluetooth Keyboard:
What did I find as Pros?
Thin and lightweight
Bluetooth Connectivity for multiplatform use for Smartphones(Android users, IOS Users) and desktops and Laptops( IOS Users and also Mac Users)
Cheap compared to other Bluetooth keyboards.
What did I find as Cons?
It does not have a backlit Key support
The Bluetooth version is 3.0
Not a full-sized keyboard
Let's see the unboxing of the Targus Bluetooth Keyboard and using it with an iPad.
Targus KB55 Bluetooth Keyboard Pairing
You might probably have a question about "How do I pair my Targus keyboard with my iPad?" or you might want to connect with any devices.
To establish the connection follow the below-mentioned steps:
Press and hold the Bluetooth button on the back of your Targus keyboard for 3 seconds. This would turn on the Bluetooth receiver of the keyboard and a Blue LED will be blinking.
Now, switch ON the Bluetooth function of your iPad or any other Smartphone or laptop. In the devices, section find "Multi-Platform Bluetooth Keyboard" and click on the name to connect.
Targus Bluetooth Keyboard KB55 (Complete Buyers Guide)
Do you want a keyboard that can easily be a part of your travel with you or a multi-platform-friendly one?
There are lots and lots of Bluetooth keyboard options in the market.
But, if you want the right Bluetooth keyboard that would support multi-platform under 2k, is travel friendly, and lightweight.
Targus Bluetooth Keyboard KB 55 is a must-choice.
I would explain each bit of technology present in this Targus keyboard to get a clear idea.
Complete Keyboard Buyers Guide for Targus Bluetooth Keyboard
I would analyze factors that you should look into while you purchase a keyboard with the above requirements.
Multiplatform Connecting Capability
It is an essential factor as we have many devices. Still, we want to connect with them using a single wireless keyboard.
Different platforms supported by Targus KB55 supports are:
Tablets

: iPad or any Android tablets

Smartphone

: Android Phones or iPhones

Laptops

: Windows or macOS

Desktop

Smart TV

(having Bluetooth support)
Which Wireless Keyboard Technology to choose?
Without any wires, a keyboard can be connected to either an
RF 2.4GHz dongle

or

Bluetooth

.
You can read more about the Wireless vs Bluetooth keyboards here.
As the Targus KB55 keyboard has a Bluetooth connection, you don't have to spend a USB port on your PC, laptop, or TV.
Why are Bluetooth Keyboards the Best for Multiplatform Devices?
We usually skip and end up buying any wireless keyboard available in the market and later face the consequences.
Can you connect a USB dongle to your smartphone, tablet or iPad?
No. To connect, you need an OTG adaptor.
For these types of requirements where Bluetooth devices are available, it is better to opt for Bluetooth keyboards.
We skip it because Bluetooth keyboards are generally priced higher than regular wireless keyboards.
However, the Targus keyboard is priced very well.
Such a quality keyboard at a stone's throw price is hard to find!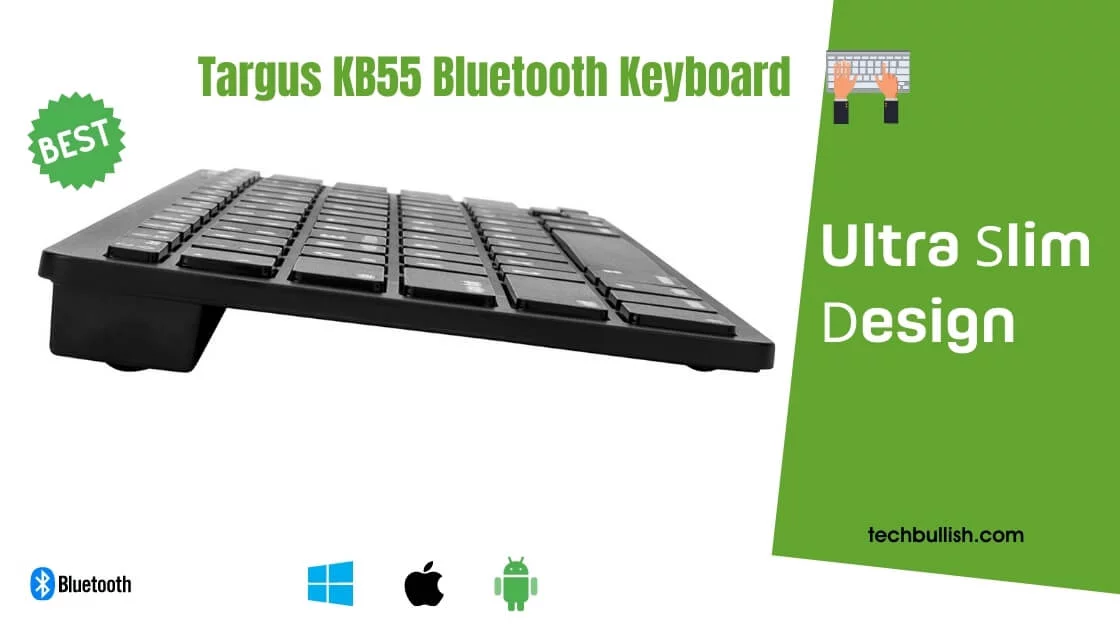 Targus KB55 Thin and lightweight
Targus KB55 is a thin and lightweight design that looks great in your workspace and helps to declutter the area.
Also Read About:
Targus KB55 Review FAQs
Q. Is Targus KB55 a full-sized Keyboard?
No, Targus KB55 is not a full-sized keyboard as you use with your PC. However, you may get an arrangement like your laptop keypad. If you love using a full-sized keyboard, you might feel the lack of number keys in the right size.
Q. Is Targus KB55 a value-for-money keyboard?
Yes, KB55 would be an excellent value for the money. We have done a complete review of this product's detailed technical specifications and price in our Targus KB55 review.
Conclusion
Let's conclude the post on Targus KB55 Review!
Overall, my experience is awesome using the Targus kb55 Bluetooth keyboard. I especially prefer to use this keyboard with my iPad. I highly recommend this product.
This keyboard would be the best Bluetooth keyboard available in the market for under Rs 2000. Yes. No other Bluetooth keyboard would match its value for money at this low price, of its design.
As you liked this Targus wireless Bluetooth keyboard you would also like to read about Silent Mouses from Logitech, Logitech M331 review.
We genuinely focus on increasing your productivity by suggesting the best possible gadgets under particular budgets to always benefit your work in your daily activities, like blogging, then YouTubers you making videos and all activities.
I hope you enjoyed reading this post.
Thanks for your feedback!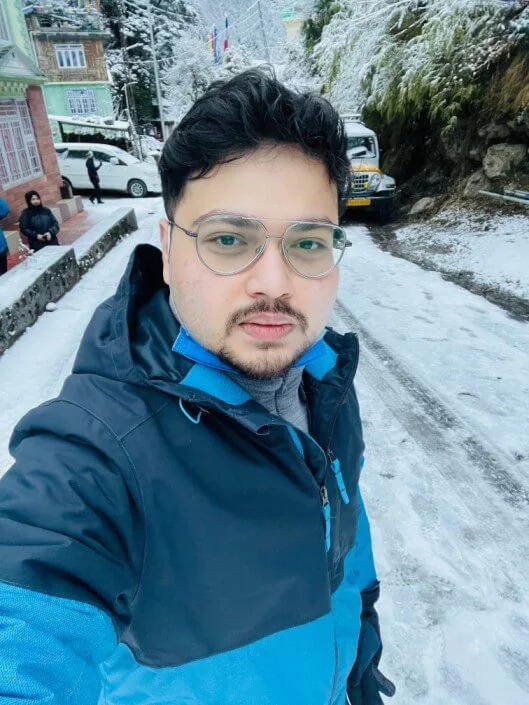 I'm Anirban Saha, Founder & Editor of TechBullish. With a B.Tech in Electronics and Communication Engineering, and 5+ years of experience as a software developer, I have expertise in electronics, software development, gadgets, and computer peripherals. I love sharing my knowledge through informational articles, how-to guides, and troubleshooting tips for Peripherals, Smart TVs, Streaming Solutions, and more here. Check Anirban's Crunchbase Profile here.