Keyboards are a must for many as we need to use a computer or a laptop for our day to day task. But not everyone buys expensive keyboards. It is confusing to make the right choice, but here we have made the task easier for you. After reading our detailed review and buying guide, we are sure you would find the answer to the question below.
So, we have found some best affordable keyboard options for budget users in India at a low price under Rs 500.
After researching over 13 best keyboards, we like the Amkette Xcite Neo Wired USB Keyboard. We also compiled buying guide for keyboard under 500. 
Best Keyboard under 500: Our Top Picks of 2022
Below is the list of top affordable keyboards picked by us under 500 range in India after looking basic features coupled with premium features and taking durability and typing comfort under consideration.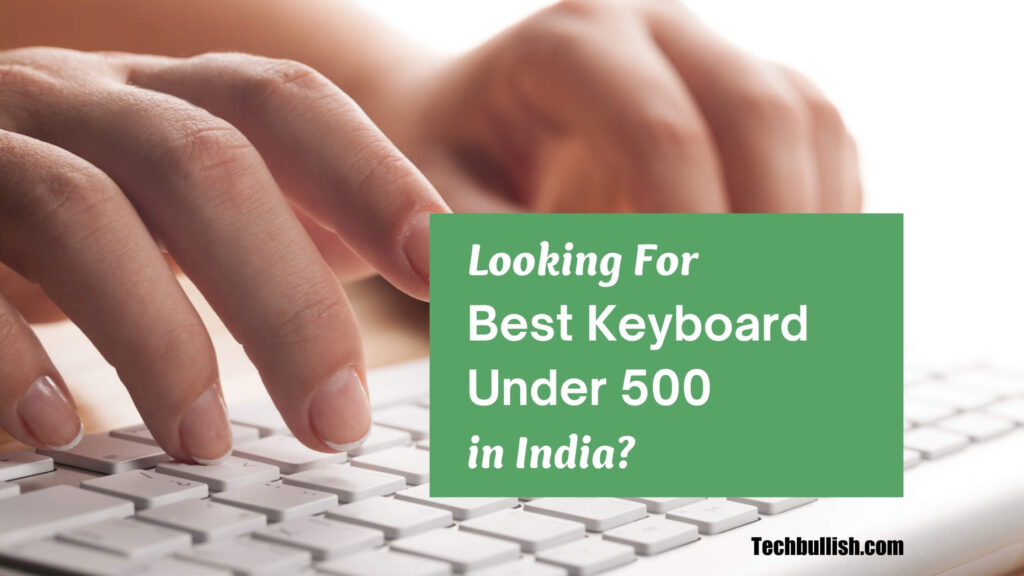 Amkette Xcite Pro USB Keyboard features a spill-resistant design. It has a quiet keystroke, and its typing experience is smooth. KeyCaps in Xcite Pro are UV coated to prevent it from fading. It has a 1 Year Amkette Warranty.
Highlight Features of this keyboard:
Spill-proof design
UV coated keycaps
One-Click Multimedia Access 
Its colour is black. It has a dimension of 47 x 2.7 x 15.2 cm. The Amkette Xcite Pro weights 457 Grams.
This keyboard design is super to go at a reasonable price. 
TVS Electronics manufactures some great heavy-duty Keyboard that is durable in day to day rough and tough work. TVS Champ USB Keyboard is a Heavy Duty Keyboard from TVS brand. It has a stylish and sturdy built that you can easily rely upon if you have a budget under rs 500.
The TVS Champ Keyboardis exceptionally user-friendly and lightweight, has an ergonomic design, thus enabling easy and effortless keystrokes.
You would find here dedicated multimedia switches helps to increase productivity. 
Apart from Amkette Xcite Pro Wired Keyboard, this is another keyboard under Rs 500, which is a good contender. The new Xcite NEO Keyboard is a right typing keyboard having a soft key feel experience for the user. 
You can easily access multimedia and internet functionality with shortcut keys present in this keyboard. As per spill resistance, this Amkette Xcite Neo Wired USB Keyboard is spill-resistant as claimed by Amkette. Your typing experience would be supreme and comfortable.
This keyboard keycaps are UV coated and would give your keycap letters a long life before fading. This keyboard can be connected to both Linux and Windows systems.
Its dimension is 44.5 x 15.6 x 2.6 cm.Amkette Xcite Neo Wired USB Keyboard weights 437 Grams and is black.
We all know about Logitech and how great keyboards they manufacture. At a stone throw price, you are getting this Logitech K120 keyboard from Amazon as this is a renewed product.
Logitech K120 has a rugged look and has a quiet and comfortable typing experience. It has a durable and spill-resistant design which makes suitable to use this keyboard without any tension. As per connectivity, it can be plugged and played in using the USB connection. 
Zebronics ZEB-KM2100 USB Keyboard has 114 keys, including 12 dedicated multimedia keys and a rupee key. Zebronics manufactures good quality keyboards. The Connectivity interface is USB, and you can connect this quickly to your PC. 
The modular design on the keyboard makes customizations a possibility. This keyboard keycap has UV coating, and the inscriptions would last long. Keys are silent, and it is comfortable to type.
Zebronics ZEB-KM2100 USB Keyboard has a dimension of 14.6 x 42.3 x 2.7 cm and weighs 458 Grams.
Pros :
1. It is small in size.
2. Easy to carry, Overall quality(3.5/5)
Cons :
1. Buttons are tough ( Will become smooth after long usage hours ).
2. Usb port is rough to use
Zebronics customer care is easily available in India.
HP has a good keyboard under 500 rs, ie. HP k1500 Wired USB Keyboard. HP k1500 is sure to boat your daily productivity with its comfortable typing experience. This keyboard comes with three indicator lights for caps lock, scroll lock and num lock which eliminate the need of guesswork. User-friendly design. 
It's built sturdy enough to ease your daily task and can act as your daily driver for your work from home. HP k1500 wired USB keyboard has a spill-resistant design, so you don't need to worry about spilling your coffee or juice when you drink.
The K 1500 from HP has 3 LED lights at the top right corner of the keyboard for caps lock, scroll lock and num lock. You can easily connect this with our desktop or laptop whatever the OS may be like Windows 7, Windows Vista, Ubuntu or Mac. HP k1500 wired keyboard has a dimension of 46.1 x 16.8 x 3.4 cm and weighs approx 572 g that enables you seamlessly to carry it with you.
HP K1500 Wired USB Keyboard is perfect for your fast and easy typing!
We have chosen a keyboard from Quantum, ie. Quantum QHM 7406. Quantum claims that its keys have a Long life( life span of 10 Million times) and compact size for space-saving for your desk. Three function keys: sleep, wake up and power.
It has a  dimension of 44.3 x 14.5 x 2 cm and weighs 374 Grams
QHM 7406 is black and has a matte finish. It is quite interesting as it is infused with noiseless design so that your working environment remains undisturbed.
HP 100 Wired USB Keyboard features a full size keyboard with a range of 109 keys, including 12 working function keys and 3 hotkeys.
Designed for comfort: Natural contours and shape allow the keyboard to sit in a comfortable position for your wrist and hands.
Connection is a breeze with wired USB connectivity so you can get up and running fast.
ProDot KB 207s Keyboard is made in India and features a compact and elegant design for comfortable working. It's build quality is quite good.
Prodot KB-207 is a full sized keyboard with 104 standard keys. It is widely compatible with Operating Systems like Windows, Mac OS, Linux & Chrome OS. You can easily plug and play this keyboard with your PC or your laptop. It is cheap and good for regular use.
Zebronics ZEB-K25 is a standard USB keyboard having 105 keys. It has a silent switch tactile feeling and comes with a copper cable and UV coated keys.
It is a standard full-sized keyboard with a super slim design. It has Comfortable and silent tactile switches and is compatible with Windows XP/Vista/7/8/10. It is available in Black colour. You would get a one year warranty from the date of purchase.
It would help you with your daily work. This keyboard comes with a long and robust cable made out of copper which is a plus point. It has a dimension of 43 x 12.2 x 3 cm and weighs 430 Grams.
You can choose the Zebronics ZEB-K25 keyboard as a budget choice as your daily driver.
iBall Winner Wired USB keyboard has soft keys and is water-resistant as claimed by iBall. It has a unique and study design. Its keys have a soft feel, and the typing experience is excellent in it.
As it is water-resistant you don't have to worry about occasional or accidental spills. It also features an extra big Enter and Spacebar key for a comfortable and swift experience.
It can be best fit for students or educators for their daily tasks and can be a fantastic keyboard under 500.
Lapcare E9 is a wired keyboard having a USB interface. Designed to be the only keyboard you might need. Built to be practical with a focus on quality and portability.
Lapcare claims they tested keys for 80 million keystrokes which would enable efficient functioning for long time usage. It has a total of 104 soft keys with 13 shortcut keys.
The keys are spaced generously from each other with the high keys design providing healthy key travel. It also aids in easy identification and reduces typing errors. The keys are protected by high-quality film which enables protection for accidental spills. 
Has a sturdy structure, well-spaced keys and is height adjustable. Just the keyboard people need. They are designed for maximum compatibility with support for Windows Win10 and older and MAC OS.
The only shortcoming of this keyboard that was found was that the USB cable is a little bit short. And no distracting brand advertisements, like some other manufacturers.
For this price, this Lapcare E9  is too good. Really an Amazing keyboard under Rs 300!
Quantum features its wired USB keyboard Quantum QHM7307 under 500 in India. This quantum keyboard is a mini wireless USB keyboard having a lifespan of 10 million times keystrokes. 
Quantum QHM7307 keyboard's special soft keys are water-resistant and provide extra comfort with its big enter and spacebar. It has a total of 78 soft keys that can easily enhance your typing experience, and having a noiseless design would provide you with an undisturbed working environment. 
You can easily connect this keyboard to your USB, your computer or your laptop. It's so that it will never fade with its UV coated design. Moreover, the keyboard is compatible with Windows, Mac, Linux OS, and Android TV. It has a dimension of 0.4 x 3 x 0.4 cm and weighs 322 grams.
Who are the users for the keyboards under 500 rupees?
It is for users looking for a budget keyboard buying option.
A perfect keyboard under Rs 500 for them would have a comfortable typing experience which would help effectively reduce typing stress under a budget.
Let's dive into the buyer's guide: 
Factors to choose the best keyboard
Whenever we look into a buying guide, the first factor would be the Budget.
Budget :
As we are looking under a budget of Rs 500, we are looking for the cheap keyboard options with a good performance and good typing experience. And you won't be surprised that many keyboards, even if they are reasonable, they have a reasonably good built quality and a very comfortable typing experience.
Design: 
Design is essential for any keyboard as it provides an excellent aesthetic vibe to your workspace. But, as we are considering a budget choice for keyboard under 500, we would more focus on the performance rather than looks.
Performance: 
Performance is a crucial factor for choosing any keyboard as lag may ruin our typing experience. Also, keypress accuracy that a keyboard understands when you type fast is very vital.
Our Keyboard Analysis Metrics and Factors :
We looked upon specific must-have factors based on which we chose the list of best keyboards. Factors were:
The keycap quality(ABS vs PBT) and keyboard durability
the different special features that we analyze each keyboard offer 
usage comfort 
typing accuracy
So after analyzing all those features, we found out the top list of keyboards under Rs 500.  
Considering Renewed Keyboards:
You may think, why here we have included some renewed keyboards. But wait, you are getting a branded company keyboard a stone throw price. Say 40% discount for the new product's selling price. Amazon also claims that these Amazon renewed products have very little or no scratches and minimal to no damage, and they are as good as new. 
When you purchase a renewed product, we highly recommend you to test that thoroughly for the next couple of days to ensure there are no defects. 
Our Verdict
As per our research and analysis to find the best keyboard under 500, our choice is :
Conclusion
Hope you liked our comparison of the best keyboard under 500 in India. We would keep this article as and when we find some excellent keyboard in the market available under 500. If you use a Mac, find here the best wireless keyboard and mouse combo for mac.
If you have used some other keyboard or you used some excellent keyboard do mention in the comments.
If you like gaming keyboards, you may like to read the best gaming keyboard under 3000 post.
Posts You may like: