As a budget choice, if you like to choose the best mouse under 500 in India, I have done the complete analysis with review and buyer guide, making your decision easier. Different top brands like Logitech, Dell, HP, and others have fantastic options for the USB wired mouse, wireless mouse, and gaming mouse (with Programmable buttons, RGB lighting, and Customizable DPI).
There are also some companies manufacturing high-quality gaming mouses at a stone-throw price under 500. 
So, What is the best mouse under 500? I have done reviews for the top 13 computer mouse found under 500 INR on Amazon to answer this. If you want to know this directly, you may go to my choice part.
So, what is a computer mouse? The mouse is a very important peripheral that helps us to navigate and point to anything on the monitor. It enables us to perform specific actions by clicking its left and right buttons. Also, it has a scroll wheel that enables us to scan through any document or website quickly.
Best Mouse Under 500 INR (2022)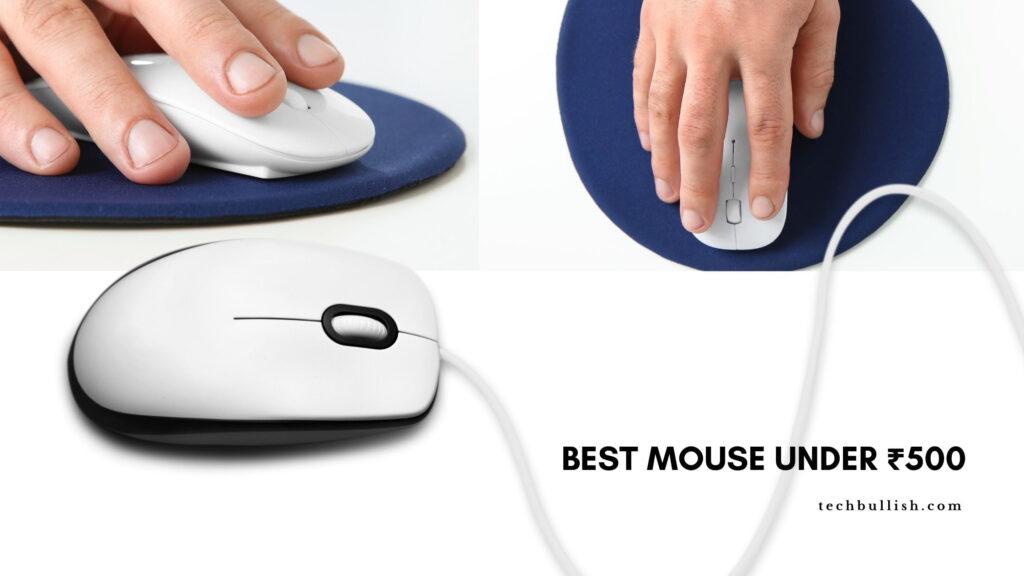 Who are the users for the mouse under Rs 500?
This range of mouse is for the budget users in all segments like:
General users,
Software Developers
Designers
Bloggers
Gamers and others who need a budget mouse under 500.
Factors to find the best mouse under 500 (Wired, Gaming and Wireless)
To assist you in coming to the right decision for your computer mouse choice under 500 INR, I have researched in-depth, spending 48 hours finding the best mouse. I have picked the mouse for your need based on the following criteria:
1. Performance 
Performance is a significant factor in choosing the best mouse for your work or gaming. It becomes vital to do some really critical task or any competitive gaming, and any lag or jitter in performance can affect.
Just imagine, if you are doing some production deployment and suddenly your mouse clicks lag, or it takes two clicks instead of one. You may face even worse if you are competitive gaming, where a minute performance drop can cost you losing the competition.
So, having a properly functioning mouse with good performance is the most crucial part. You can do many tasks even if you have a basic featured good performance mouse. Just think the opposite, you have so many features, and the mouse itself fails to deliver its most basic tasks like "Click" and "Scroll" correctly.
2. Durability 
Durability is a critical factor that I considered in our mouse selection. As per my experience, it is really beneficial if your mouse is durable, especially if you have kids at your home. Also, durability is essential as you would be using your mouse for almost every work you do on your desktop.
3. Cursor Travel
When you move your mouse, and the cursor travels the pixels in your monitor. It is the Dpi count which you find in your mouse. For gaming, cursor gliding through the screen and providing high precision is very important.
If you are a Gamer and play games like CS Go, Modern Combat, or similar High FPS games, you would need a High FPS mouse. This would help move the mouse cursor faster, and you would be able to point more quickly.
Cursor travel won't is much impactful if you are a casual user.
4. Advanced Features 
Even on a low budget, some mouses have some extraordinary features like customized buttons, and it can surely enhance your experience of using the mouse.
The advanced features that you can find specifically in Gaming mouse are:
Programmable Buttons

: In Some Gaming mouse-like Xing Technologies 1070, you would find extra buttons present in additions to basic left and right mouse buttons and a scroll wheel. These buttons can be present on the left or right side of the mouse body.

Customizable DPI

: Specifically, this feature is for Gaming mouses as they are made with very high DPI in mind. However, for the common purpose having that boosted extreme DPI not that useful. For that, you might like to reduce the DPI as you are going to use that Gaming mouse for multi-purpose use even different than gaming like browsing the internet, web designing, editing, and many more.

Customizable RGB Lighting

: I love the different RGB lights that come out of the Gaming mouse. It really boosts the gaming experience. It is worth trying to go for a good gaming mouse if you really love gaming or are involved in gaming as a competitive gamer. Just give it a try using a gaming mouse, and I am sure you will feel the difference if you generally use any regular wired mouse for gaming.
These advanced features are specially created for the Gaming Mouse range, and you might see this if you are choosing a regular wired mouse under 500.
Also Read:  Best mouse under 200 
5. Wired or Wireless
Probably you think every time you think about buying the perfect Mouse to fit your workspace. Choosing the best Mouse can work like magic.
Wired Mouse generally comes in all ranges of prices from even a very low budget and even a premium mouse with a high price range. Wired Mouse is excellent for Gamers and all different kinds of work. These mouses can be of general USB type or Gaming USB wired type with advanced Gaming features.
I would recommend a wired mouse for all types of users.
However, we love to declutter our beautifully created workspace. So, we go for wireless mouse options.
Previously, wireless computer mouses were not that good. However, with 2.4Ghz connectivity with its dongle wireless mouse are comparable with the wired Mouse today.
For any kind of use other than FPS gaming, if you switch between multiple devices and connect your Mouse with your smart TV, choosing a wireless Mouse under 500 is recommended.
What is DPI and Why is it an essential factor for mouses?
DPI stands for Dots Per Inch. It is the measure of mouse cursor movement on the screen when you slightly move your mouse. 
DPI is directly proportional to cursor movement(sensitivity).
More DPI generally means that your mouse is more sensitive with smaller movements of your hands. With a little movement, it can travel more area of the screen.
So, let's start with the Top 10 mouse choices that I made into a list.
Best Mouse under 500
1. HP X1000 Wired Mouse
HP X1000 is an excellent mouse for your daily work. The most important thing is I was really amazed by its dazzling looks. How can a mouse with only black colour look so good? It is pretty cute and would add beauty to your workspace.
It comes with all the basic features that you can get with a Wired USB Optical Mouse. It has no delay or lag and it performs superbly in all tasks you give it. You will find this mouse as a reliable small mouse at this price of 500 INR.
Features
The glossy black upper finish
HP X1000 has an optical sensor and has a DPI of 1600
Its Dimension is 9.4 * 5.7 *3.9 cm and weighs 90g.
Compatible with Windows XP/Vista/Windows 8/Windows 10
It is covered by a 2 Years Brand Warranty.
What we found as Pros?
It has a sleek and sophisticated glossy black design.
Performance is top-notch.
You don't have to worry about lags with this mouse which makes it pretty reliable to use daily for your work.
What we found as Cons?
You might feel small in your hands.
Not compatible with Mac or Chrome OS
If you are a regular user and choose to use a wired USB mouse, I would recommend the HP X1000 to buy. You will be amazed by its looks.
If you want a full-sized mouse from HP, I recommend going with HP 1000 which is similar to this. (Check Price at Amazon)
2. Lenovo 300 Wired USB Mouse
Lenovo 300 is an awesome budget mouse choice in this price segment of ₹ 500. This Lenovo mouse comes in 2 variants. One is wired and another wireless one. This mouse has a simple design that may appeal to some users. If you like a simplistically designed mouse, then this is a good mouse.
You can check its wired and wireless variants, which are similar in specifications and performance to a certain extent. Only you need to pay more if you want to have a wireless variant with this mouse.
Lenovo 300 Mouse Features
Lenovo 300 comes with 1600 dpi for precise optical tracking under 500
It has a

warranty of 3 years

.
What we found as Pros?
It has a good build quality and can even sustain mild to moderate drops.
You would be able to work for long hours with this mouse without any problem.
What we found as Cons?
Lenovo has also a wireless version of this Lenovo 300 mouse.(Check Price At Amazon)
Lenovo 300 is awesome if you need a mouse for your daily work. This will satisfy all your needs. Lenovo 300 Wired mouse is really a good choice.
3. Logitech M90 Wired USB Mouse
Logitech M90 is an awesome wired mouse to look in this budget of Rs 500 in India. If you are a normal user you would surely love this product. This might not be the perfect mouse for gamers but for any general use it's our best choice in the list.
You will never regret buying a Logitech mouse even under 500. Their products are so good that it doesn't fail to impress even with its budget segment offering.
This mouse is a full sized mouse and is also good for large hands. Also if I tell about the comfort, it is really comfortable to work with this for long duration. Logitech M90 has all the basic features that a basic wired mouse should have. You would be satisfied using this mouse.
Logitech M90 Mouse Features
It is a wired Optical Mouse with a DPI of 1000
It has

Ambidextrous design

(can be used with either left or right hand)
It would work on Windows, Mac and Chrome OS.
It has a dimension of 430.71 x 403.15 x 418.5 cm and weighs 82 Grams
What we found as Pros?
Long life of the mouse
Comfortable and reliable product from Logitech
Value for money
What we found as Cons?
Design might not appeal to all
I really like Logitech Mouse as they really justify the price we pay for their mouse. I really feel that this Logitech M90 is true value for money product. Logitech M90 is the best mouse under 500.
4. Zinq Technologies 1070 USB Gaming Mouse 
Wow, what a gaming mouse under Rs 500! Zing Technologies 1070 Gaming Mouse is just amazing. If you are a Gamer, then this mouse is really a delight for your gaming. What else do you need in a gaming mouse? This mouse offers amazing RGB backlighting effects that would elevate your gaming experience to a greater extent.
You can also adjust DPI from 800 to a whopping 3200 DPI, which would let you even use this mouse for various purposes other than gaming.
Isn't it awesome? Yes, it is.
There is more to it. It has a rubber scroll wheel, which means scrolling will also be a delight. Just look at its design. It just looks perfect as a gaming mouse. Even you can see these types of designed gaming mouses at a higher price segment. Zinq Technologies 1070 is the best gaming mouse under 500.
Zinq Technologies 1070 Gaming Mouse Features
Stunning Gaming Look with

7 Breathing RGB

Colours

6 customizable buttons

: 4 on top, 2 on sides, and scroll.

Variable DPI

(800,1600, 2400 and 3200 options)
Designed for FPS gamers 
What we found as Pros?
6 customisable gives an added advantage in gaming
Adjustable DPI is awesome as changing DPI can be used for different tasks.
Comfortable Grip
What we found as Cons?
The gaming Driver is compatible for Windows only.(For programming 6 buttons). Other features would be supported in Windows and Mac.
Bottom Line:
Though it is only compatible with Windows, we usually play games on Windows OS. So if you are a gamer using Windows, this is a highly recommended product. It is a bang for the buck. 
5. Dell Ms116 Optical Mouse
Dell manufactures good quality computer peripherals and their products are pretty reliable. You might already have been using a Dell product previously. Dell MS116 is an optical mouse that features Optical Tracking on the surface and would help you to do your regular task with its 1000 DPI tracking.
The cord is 6ft long which is enough to connect to your PC.
This mouse is a full-sized wired USB mouse which is good for all types of users. You can easily perform tasks like editing, designing, browsing, watching videos and all other things smoothly with this mouse.
Dell Ms116 Features
It is a wired Optical USB mouse with 1000 DPI optical tracking
It has Windows and Mac OS compatibility
Its dimension is 11.35*6.1*3.61cm and weighs 86.18g
Its cable length is 6ft which is decent.
It has an

ambidextrous design
What we found as Pros?
Professional aesthetic design from Dell Computers
Fast and Accurate for your regular tasks
What we found as Cons?
Made for general purpose and not for gamers
No Braided Cable
Dell MS116 is a Good Optical mouse in this price segment with simple matte black looks. The design looks a bit outdated to me.
However, if you like a simple-looking mouse with basic specifications and if you admire Dell Brand, then this mouse is a definite choice for you.
6. HP USB X500 Wired Optical Mouse
HP X500 is another good mouse in this price segment from HP.
HP X500 Features
It is a wired mouse with USB connectivity.
It has 1 Years National Warranty.
What we found as Pros?
It has a good grip and feels good to work with.
It can handle your daily work and heavy tasks flawlessly.
What we found as Cons?
Some of the competitors provide 3 years warranty
7. AmazonBasics USB Wired Mouse
AmazonBasics is a lineup of products from Amazon. AmazonBasics products are durable and of good quality.
AmazonBasics Mouse Features
Precise Optical tracking with its 1000 DPI cursor control
Works on Windows and Mac OS.
It has a dimension of 10.92*6.1*3.43 cm and weighs 81.65 g
What we find as Pros?
Sleek Ambidextrous Design(suitable for both left handed and right handed use)
2 Years Warranty
What we find as Cons?
I didn't find cons for this product considering this price segment(under Rs 500 in India).
8. iBall FreeGo G20 Wireless Mouse
iBall is known for launching high quality products under a budget. This product iBall FreeGo G20 is not an exception. Just imagine getting an awesome wireless mouse under Rs 500.  
iBall FreeGo G20 Features
It has a ergonomic well built design
Wireless Mouse with 2.4 Ghz connectivity (range is 10 m) using Connector.
Adjustable Cursor Speed (upto 1600 DPI)
Looks great with its piano shine finish.
What we find as Pros?
Wireless Connectivity under a stone throw price
Long-distance connectivity (up to 10 m)
Great design
What we find as Cons?
Being powered by battery you need to replace batteries often.
If you need to use this mouse with your laptop and also with your smart tv iBall FreeGo G20 is the best budget wireless mouse in India.
9. iBall Style 63 Optical Mouse
Whenever we go and search for any budget product either be a mouse or a keyboard we always find some quality products from iBall. iBall Style 63 is a very good-looking wired mouse with texture on its sides. iBall claims that it has a switch life of 5 million life cycle.
iBall Style 63 Mouse Features
It has a optical tracking of 1600 dpi
It is a USB plug and play mouse
It has a dimension of 10.1 x 6.2 x 3.5 cm and weighs 69 Grams. 
What we find as Pros?
It has texture on its sides that would provide enhanced grip and control.
It is convenient for both Left and Right-hand users, it's perfect for ambidextrous.
What we find as Cons?
Not much to complain considering the price of 500.
10. HP Wired Mouse 100
HP 100 Wired Mouse is a good budget mouse under Rs 500 having a greater DPI of 1600 than other mouse under 500. HP is a trusted brand manufacturing good computer peripherals.
It has 10 Days replacement if you purchase from Amazon and has 1 Year HP Warranty.
You would find HP100 mouse quite useful for your day to day tasks as it offers consistent fast-paced performance.
HP Wired Mouse 100 Features 
It is an Optical Mouse having a DPI of 1600.
Best for ambidextrous use(both left and right handed use).
Connectivity is wired using a USB port.
It has dimensions of 6.4*11.7*3.7 cm and weighs 90 grams.
What we find as Pros?
Have high DPI than its competitors
Budget Buy
What we find as Cons?
Some users reported the button stopped working (You may easily claim and replace under warranty).
I really like Red Gear mouse and keyboards very much. Their RedGear Dragonwar Emera is specially made keeping gamers in mind. It looks so good as a gaming mouse.
This is a Wired USB Optical Gaming Mouse from Redgear. It has a braided 1.2 m cable which is essential for longevity of the wire. This braided cable solves the most basic problem of having a wired mouse ie. its wire gets damage first. One of the major feature that this Gaming mouse has its Customizable DPI 800/1600/2400/3200.
Red Gear Dragonwar Emera is truly a delight for gamers. When you would play games with this mouse you would definitely experience an improved experience specially due to its look, feel ,advanced features and performance.
12. HP M260 Gaming Mouse
HP has an awesome mouse for your gaming, ie. HP M260 Gaming Mouse. We all like having customizable buttons and some highly doped increased DPI.
This meets all your requirements even if you are a professional gamer. HP M260 mouse comes with 6 buttons that can be customized according to the Gaming action needed. This helps to improve your gaming experience. Another factor is that it has colourful LED lights in it that emit to give you an awesome gaming experience.
You can consider this mouse if you want to use it for office work or for Gaming. This is highly recommended product from HP.
13. iBall Free Go G25 Feather-Light Wireless Optical Mouse
iBall Free Go G25 is another wireless mouse from iBall and is the newer and refreshed version of G20 Wireless Free. iBall Free Go is made very lightweight that would be easy to use. The design is very attractive with its Piano black finish.
This can easily compete with any wireless mouse at 600-700 range and is the best value-for-money product considering its performance. You can easily use this mouse with a PC and Laptop and switch between multiple devices by connecting with its nano receiver.
iBall Free Go G25 runs on one AA Alkaline battery which runs long and you don't need to worry about that. This mouse does not have Bluetooth connectivity. But, you can connect to any type of device using its 2.4 GHz wireless nano receiver.
This is highly recommended if you need a mouse purely for your daily work and not for gaming.
My Recommendation
After spending 60+ hours in research to find the best budget mouse under ₹500, I came out with the final conclusions.
My choice for normal users is Logitech M90 and for gamers is Xing Technologies 1070 Gaming Mouse.
For laptop or users who need to use mouse with smart tv, I recommend the iBall FreeGo G20 Wireless Mouse
I hope that you have already found out the best mouse for your need from our article. You may also like to find the best keyboard under 500 in India
If you love silent mouse, you may like to read the Logitech M331 Silent Plus Mouse Review.
FAQs on Best Mouse under 500 INR
Final Words Wrapping it Up
It's time to conclude now with my final words. I started comparing 13 excellent computer mouses in this price segment and finally narrowed it down to your specific choice requirement. I have covered the wired, wireless, and Gaming mouse range in detail, which you would find best @500.
After reading the reviews and this complete guide, I hope you have your answer, and finally, you have chosen the reliable and best mouse under 500 for you.
For any further queries, you can drop a comment below or contact me at techinfluencergrp@gmail.com.
Also Read