This is the right post if you are looking for the Amkette EvoFox Warhammer Gaming keyboard review. Amkette is a well-known brand for computer peripherals.
Its EvoFox Warhammer Gaming keyboard has been specially made to suit gamers' needs.
This keyboard has impressive looks, especially the RGB floating keycaps, which amazed me.
Looks interesting, right? Let's begin the review.
EvoFox Warhammer Gaming Keyboard Review
With the EvoFox Warhammer gaming keyboard, you get to play your favorite PC games with style and ease. The keyboard is laid out in such a way that it is easy to use and will not cause any inconvenience to the user.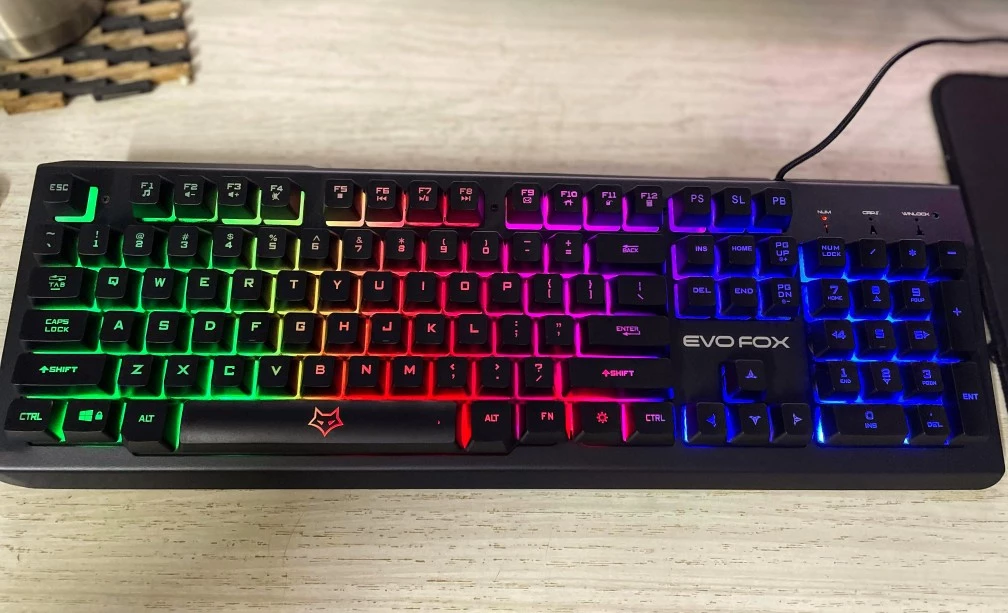 EvoFox Warhammer RGB Wired Gaming Keyboard
Summary
The EvoFox Warhammer keyboard has a very sturdy and impressive design with RGB backlit keys, making it such a treat for the eyes. The keys of the keyboard are of regular size and are not stuffed in a small space. The keyboard is easy to operate and does not require you to press hard to get the characters to appear on your screen. The keys are also very responsive and accurate and will not make you feel irritated when you do not want them to do.
It has 19 anti-ghosting keys with a Windows Lock key that allows you to disable the Windows key to prevent any mishap from using the Windows key during gaming.
The 19 anti-ghosting keys allow multiple simultaneous keystrokes with a single key.
EvoFox Warhammer has a 10 million keystroke lifespan that ensures your keyboard will easily outlive your PC.
The keyboard comes with a 1.5m long braided cable, backlit keys with a breathing effect, and 12 multimedia keys.
The keycaps are removable, so you can even replace them with your own if you want. The mechanical keys are optimized for gaming.
Overall, during gaming sessions, the gaming keyboard performed well and operated smoothly. I was impressed by the looks of this keyboard.
It is terrific with its RGB colors. You can also increase or decrease the brightness of the RGB lighting and even turn off the backlight of this keyboard.
Product Specifications
| | |
| --- | --- |
| Weight | 0.81 kg or 810 g |
| Dimensions | 43 × 14.10 × 4 cm |
| Keyboard type | Gaming Wired Keyboard (Membrane type) |
| Operating System | Windows 10/8.1/8/7, Linux, Ubuntu, Mac OS |
| Hardware Platform | PC/Laptop |
| Design Style | Floating Keycaps with 104 Keys |
| Keyboard Layout | ANSI type |
| Multimedia Keys | Yes |
| Backlight | Yes, RGB backlighting with mode to adjust the lighting intensity |
| Anti-Ghosting | Available with 19 Anti Ghosting Keys |
| Model Name | EvoFox Warhammer Gaming Wired Keyboard |
| Warranty | 1 Year Manufacturing Warranty |
| Weight | 810gm |
Durability
The Evofox Warhammer Gaming keyboard has a very sturdy build to it. The keyboard top is built with metal which is incredible.
Even the keycaps are made of high-quality ABS plastic, which makes them durable. Also, check the comparison of ABS vs PBT keycaps.
The keycaps have a lifespan of 10 Million keystrokes which is good. The cable is braided, which adds to the durability, and is sufficiently long(1.5m).
Click feel
Though this is not a mechanical keyboard, the switches on it give a mechanical keyboard feel.
The keys feel clicky and responsive. They are not very loud, and I have good experience with this keyboard.
Once I used it over a long duration, I started noticing the smoothness added to the keys, which is excellent.
You won't feel tired even if you use this keyboard for a long time.
Gaming Performance
You can play several games with ease using this Amkette Evofox Warhammer Gaming keyboard.
The looks give a gaming feel, and you will feel the gaming mood whenever you play with this keyboard due to its RGB lighting.
Also, it makes you play even in a dark environment. The keys are easily visible in the dark.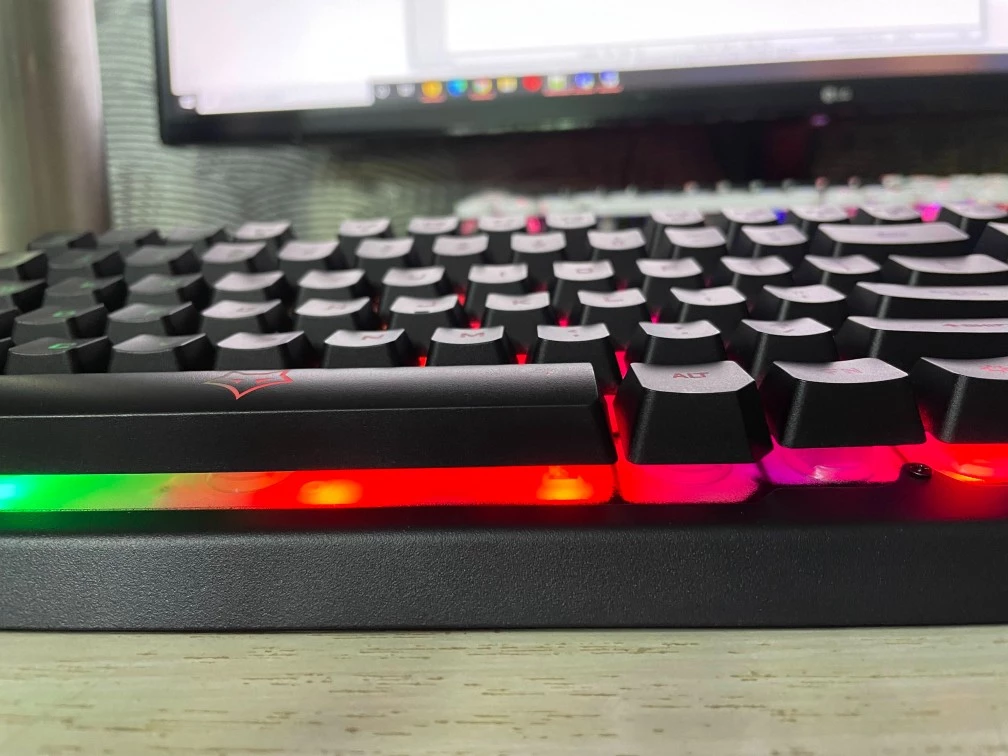 You won't find any issue with clicking multiple switches together on this keyboard.
It happens when we play games, and we need to click numerous keys fast, and sometimes our keyboard fails to capture the key impression correctly.
The Amkette EvoFox Warhammer keyboard solved this by giving its Anti-Ghosting ability to its keys, an essential feature to have if you are looking for a gaming keyboard.
Also, you get a Win lock functionality which comes in handy if you accidentally click the Win key during gaming.
My View
Overall, considering the build quality, usability, clickiness, and performance the Amkette EvoFox Warhammer Gaming keyboard is excellent considering the price.
I would highly recommend this product if you are a gamer looking for a great budget RGB membrane keyboard.
Last update on 2023-10-02 / Images from Amazon Product Advertising API
You can also find the Warhammer Gaming keyboard on the Amkette Official Website here.
FAQs on Amkette EvoFox Warhammer Gaming keyboard
Q: Is Amkette EvoFox Warhammer Gaming keyboard compatible with Mac?
Ans: Yes, the Amkette EvoFox Warhammer Gaming keyboard is compatible with Mac.
Q: Does Amkette EvoFox Warhammer Gaming keyboard require driver installation?
Ans: Amkette EvoFox Warhammer Gaming keyboard runs directly by plug and play. You don't need to install the drivers separately.
Conclusion
Let's conclude the post on the Amkette EvoFox Warhammer Gaming keyboard review.
This keyboard from Amkette is highly recommended, and you would get the edge in gaming performance.
I hope you enjoy reading this post.
Thanks for your feedback!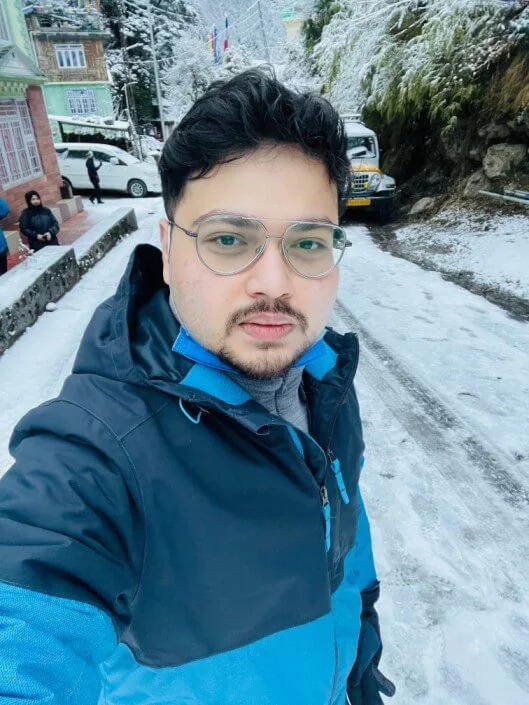 I'm Anirban Saha, Founder & Editor of TechBullish. With a B.Tech in Electronics and Communication Engineering, and 5+ years of experience as a software developer, I have expertise in electronics, software development, gadgets, and computer peripherals. I love sharing my knowledge through informational articles, how-to guides, and troubleshooting tips for Peripherals, Smart TVs, Streaming Solutions, and more here.