If you have already learned about the Mechanical Keyboard history, then you will see that Mechanical switches, the core part of any mechanical keyboard also went through much evolution through the times with improvements to every aspect.
In this post, you will learn everything you need to know about the History of Mechanical Switches.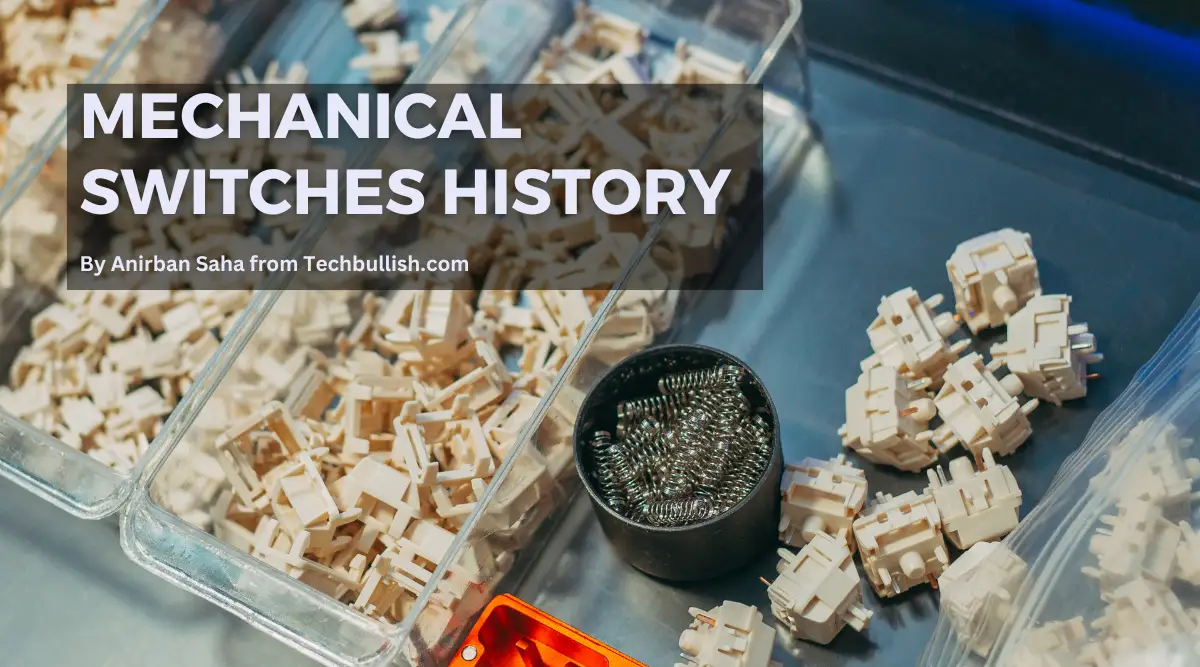 Let's get started!
When was the keyboard switch invented?
Mechanical Keyboard switches have their history rooted in the early 1970s, the time since computers had screens. These were technically mechanical reed switches and each switch could be pulled out of the keyboard externally.
They had a hermetically sealed tube with two switches. With keyboards converted to electronic typewriters, devices like Alps SCB1A163 were used at UCLA for building the first computer.
The first mechanical switch was introduced by CHERRY in 1983. It guaranteed 50 million actuations.
It was extremely popular in office segments for a pleasant typing feel owing to its amazing switching features.
Functioning efficiently with improved response time and typing speed mechanical switches minimize typos preventing typo errors with their tactile feedback producing a clicky sound when keys are pressed. These keyboards are a great fascination for keyboard enthusiasts.
With the generation of typing devices introduced in the 1870s, keyboards have been in continuous evolution. Improvement in technology, design, and layout has made mechanical keyboards much more sophisticated and functional.
Keyboards to date are based on typewriters which were patented between 1830 and 1870, Remington's Sholes & Glidden typewriters being the first commercial typewriters.
By 1990 commercialized typewriters were standard but a drastic change came with the introduction of IBM Selectric typewriters by IBM in 1961.
To change the fonts in the same documents by changing typeballs was a new experience for users which was quite popular till 1980.
However, the striking emergence of the consumer-friendly product "Computers" in 1970 privileged the keyboards making them a primary input device for all typing work. Although a standard keyboard back then was not inclusive with a PC purchase and had to be bought separately from IBM.
By 1984 IBM introduced their iconic Model M keyboard which was a buckling spring keyboard, well constructed with accuracy and comfort. By 1990, membrane keyboards with rubber domes captured the market.
Even though these were cheap and luxurious, they could not meet the standard of tactile mechanical keys. Leading to this crisis production of mechanical switch keyboards with improvised older buckling spring keys resumed its place in markets.
These mechanical keyboards have individual switches under each key. Approving their clicky typing experience, they were appreciated by the PC gaming industry.
Reputed mechanical keyboard brands used Cherry MX switches that are available in various models identified by colors like – CherrMX (Black, Red, Brown, Blue, Green, Clear).
Early Mechanical Keyboard Switches
Although early keyboards had to be typewriters running on electricity, with innovations it resembles the ones that we use today. Since then keyboard models have been using mechanical switches.
Buckling Spring Switches
Patented by IBM in 1977, Buckling Spring switches were invented by Richard Harris. A simple operation like pressing the key exerting force downwards on the spring underneath allows it to buckle to a side triggering a switch given its name 'Buckle Spring Switch'.
IBM used the BS switches in their model IBM Model F which was the first keyboard line used in most IBM boards in the 1980s.
In 1983 IBM Model M was introduced with improvisations as a replacement. These were examples of the QWERTY layout of modern keyboards. Currently, Unicomp produces IBM Model M keyboards with buckling spring switches as IBM has stopped producing both its models.
Cherry Switches
With their reliability and performance, Cherry MX switches deliver a unique gaming experience. These are benchmarks for key switches in the gaming platform. Cherry MX switches came with highly defined precision along with a tuned tactile and linear feel. Their audible feedback makes them best known key switches.
Cherry started making keyboards in 1967. Receiving a patent in 1984 for mechanical keyboard switches, Cherry introduced the MechanicalX-point switches popularly known as MX switches. MX Black being the first switch was used for the M6 keyboard line. With a requirement of 60g of force to activate, these were simple linear switches.
This authentic Cherry MX Black is still used. There are other variations in MX switches with color codes and linear to tactile features other than being quiet or clicky. One of the most commonly used mechanical switches, these are standards in the market.
ALPS Switches
In 1983, Alps Electric made this compact design key switch for the keyboards used on the first computer at UCLA. These switches involved metal contact in their sense method because of the high number of parts in all designs. These switches were called complicated ALPs at times for 10-11 parts that each switch had.
Complicated Alps switches can be tactile and clicky other than tactile and non-clicky. However, these are no longer available. Simplified Alps switches are another type that is louder and less smooth than the complicated Alps.
These switches are regular features of trending keyboards. Alps switches were used exclusively with Alps keyboards and had the Alps Electric logo molded into the base of the switch. SKCL Brown is the heaviest linear Alps switch found on a keyboard.
Since the Alps stopped producing keyboard switches in 2012, you can find them in an auction if you desire.
Modern Mechanical Keyboard Switches
The 1990s saw wreckage to the production of mechanical keyboards with membrane keyboards coming into popularity.
However, the preferences for mechanical keyboards by gamers, professionals, and casual consumers made its emergence yet again in 2010.
Numerous mechanical keyboard brands captured the market with the expiry of Cherry's patent in 2014.
Custom Keyboards and Prebuilt Keyboard Switch Brands
Some popular switch brands for custom and prebuilt keyboards are –
Cherry
From 2010 to 2014 Cherry had the lion's share in manufacturing gaming & professional keyboards. Popular brands like Corsian and others still depend on Cherry MX switches making it the top-notch in the mechanical keyboard market.
Lining up for switches Cherry has expanded with options for multiple switch types with specific functions like those of Cherry MX Silver for gaming and others like low-profile mechanical switches and silent mechanical switches.
Outemu
Manufactured by Outemu, Gazze switches are budget-friendly mechanical switches. BobaU4 and U4T are popular switches since they are more tactile and users' favorites.
As a new entrant in the mechanical keyboard switch industry they are extremely popular for custom mechanical keyboard builds setting the keyboard market sizzling with their products.
Check More information about Outemu switches and whether they are good here.
Gateron
Gateron switches were considered to be Cherry MX clone manufacturers due to their switch designs which were copies of Cherry MX switch models. In due course of time, they improvised their design uniquely to gain identified popularity.
Gateron Milky Yellow and the extremely popular Gateron INK Black V2 are among their budget-friendly worthy creation. Gateron is also credited to produce optical switches based on their mechanical switches. These are regular features for a custom keyboard build also found on pre-built mechanical keyboards.
Learn more about the Gateron switches and whether they are good for you.
Kailh
Kailh is recognized for creating some unique switch designs that strikingly hit keyboard enthusiasts and casual users. Although Kailh was considered for producing Cherry MX clones initially.
They have a reputation with big brands like Razer and Logitech G. Box-series is one of the best-known switches from Kailh. Defined with an amazing look and increased stability their metal contacts are closed in a box. The Kailh Switches are found in both pre-made and custom keyboard builds.
Check more detail about the Kailh switches and whether are they good from this post.
Topre
Based on capacitive keyboard technology, offering a feel irreplaceable by mechanical switches, Topre is a Japanese switch.
They cannot be used in a custom mechanical keyboard since Topre switches cannot be purchased separately. Happy Hacking Keyboard and Cooler Master are the only manufacturers utilizing these key switches.
Learn in detail about what are Topre switches here.
Gaming Keyboard Switch Brands
Fancy keyboards are appreciated with customization but they are not cost-effective. For your regular use, a pre-assembled keyboard is always consumer friendly. Some popular brands in the mechanical keyboard market are –
Logitech G
Despite sponsoring esports players and selling gaming peripherals Logitech G was popular enough to capture the market even before their rebranding.
They have been manufacturing switch models since 2014. Romer G switch was their initial product before producing the Logistic GX switch which was very close to the standard MX switch design, unlike the initial one.
Although the Romer G switch is available in Logitech G810 Orion Spectrum and the G910 gaming keyboards. Their actuation point is set at 1.5mm which is shorter than the 2mm actuation point on CherryMX and Kailh.
Due to this feature, its tactile bump goes unnoticed during intense gaming. These switches assure 70 million keystrokes per key. Prioritizing speed for gamer facility, Logitech G's GX switches are a favorite in the keyboard market.
Razer
One of the close competitors of Logitech G, Razer hits popularity in the gaming peripherals market. It started manufacturing gaming switches in 2014. Tartarus Pro in Razer surpassed traditional binary input. Their analog input displayed faster movement control in FPS and racing games.
These switches are benefited from transparent housing allowing greater illumination. Razer mechanical switches support 100 million keystrokes.
Fitted with cross stem they support maximum keys with their dual side walls for progressive stability. Razer low-profile optical switches endow gamers to register each keystroke faster.
Razer optical switches and traditional Razer mechanical switches are two interests that Razer is venturing into recently.
Steelseries
Steel series is producing other switch types in recent years other than their trending model Hall-effect switches. These switches utilize magnets instead of metal-to-metal contact featuring different actuation points. They offer a genuine mechanical switch feel.
However, they are in collaboration with Cherry for their keyboards. Steel series guarantee 50 million keystrokes with ultra-fast switch types (red, blue, or brown). The series 5000 metal frame is a perfect centerpiece of a high-end setup. This keyboard accessory is a simple magnetic solution with soft touch finish.
Hyperx
Hyperx switches are exclusive to a Hyperx keyboard as they manufacture their own mechanical keyboard switches. They have quality speed, accuracy, responsiveness, and durability with 50 million keystrokes.
Hyperx scroll wheels of a Hyperx switch make their gaming mouse exclusive in the market. It is a gaming brand by Kington Technology.
Hyperx switches come with RGB led lights in different color codes (red, blue, brown, grey, pulse fire, aqua). A favorite among users is the Hyperx Aqua switches that offer a crisp, linear keystroke with negligible actuation force.
Recently partnered up with Logitech, Hyperx is compatible with a wide range of computer peripherals. Ducky's keyboards feature Hyperx switches. To create special limited edition models as part of the Ducky One 2 Mini Series" the two brands have collaborated.
FAQs
Q. What is the oldest mechanical keyboard switch?
Ans. "Buckling Spring" is the oldest known mechanical keyboard switch. It had a coil spring between the keyboard and a pivoting hammer. IBM brought these with their PC. Cherry MX Black switches were the first to popularize with the general public.
Q. What switches did old Apple keyboards use?
Ans. Orange Alps switches were used in old Apple keyboards other than Apple(Bus keyboards, standard keyboards & Extended keyboards).
Q. Who invented cherry switches?
Ans. Walter Lorain Cherry, the founder of Cherry Corporation, produced the first microswitches in Highland Park, Illinois.
Thanks for your feedback!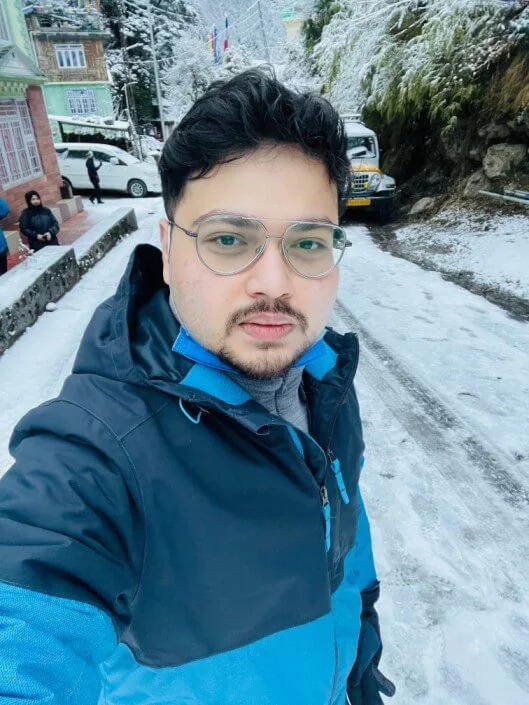 I'm Anirban Saha, Founder & Editor of TechBullish. With a B.Tech in Electronics and Communication Engineering, and 5+ years of experience as a software developer, I have expertise in electronics, software development, gadgets, and computer peripherals. I love sharing my knowledge through informational articles, how-to guides, and troubleshooting tips for Peripherals, Smart TVs, Streaming Solutions, and more here.