Looking for a top-quality mechanical keyboard that won't break the bank? The XVX M84 may be just what you're looking for.
This keyboard features durable construction, RGB backlighting, and Gateron switches(Yellow or Red), making it a great choice for gamers and typists alike.
The M84 has a clean and beautiful Coral Sea Theme design that will look great on any desk. One of the best things about the M84 is its price. For a mechanical keyboard with this many features, it's very reasonably priced.
In this post, I would do the XVX M84 Mechanical keyboard review with all its features, pros, and cons, and with my overall experience of how I am feeling using this.
Let's get started!
XVX M84 Mechanical Keyboard Review
This keyboard has a sturdy aluminum construction and it comes with RGB backlighting. The backlighting is fully customizable and you can create your own unique lighting effects.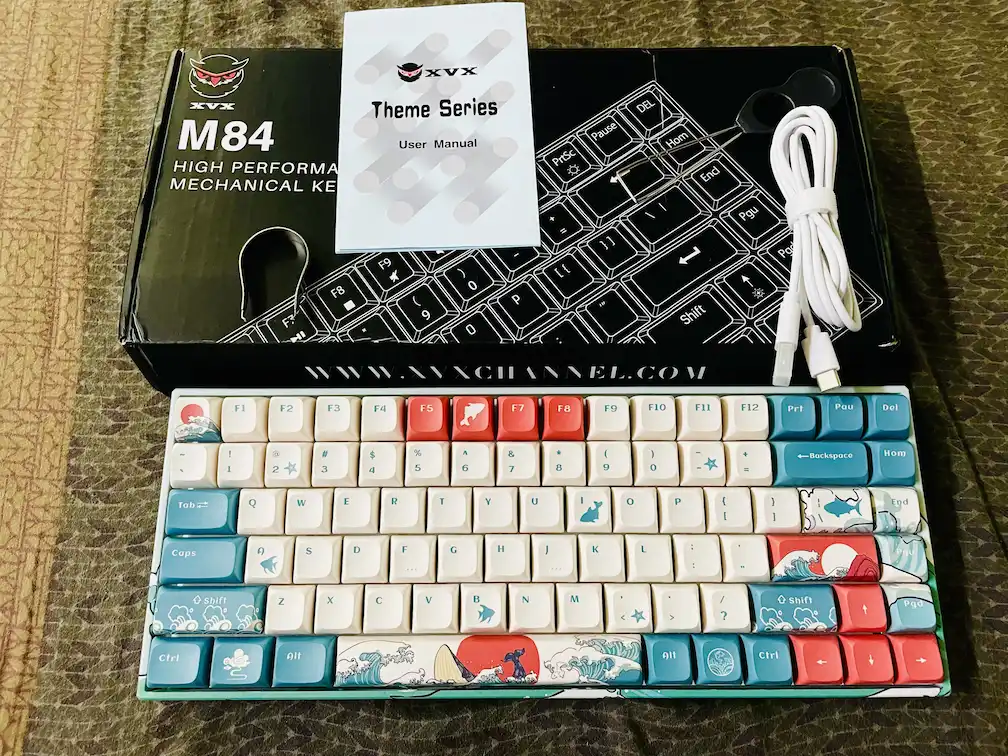 XVX M84 75% Wireless Keyboard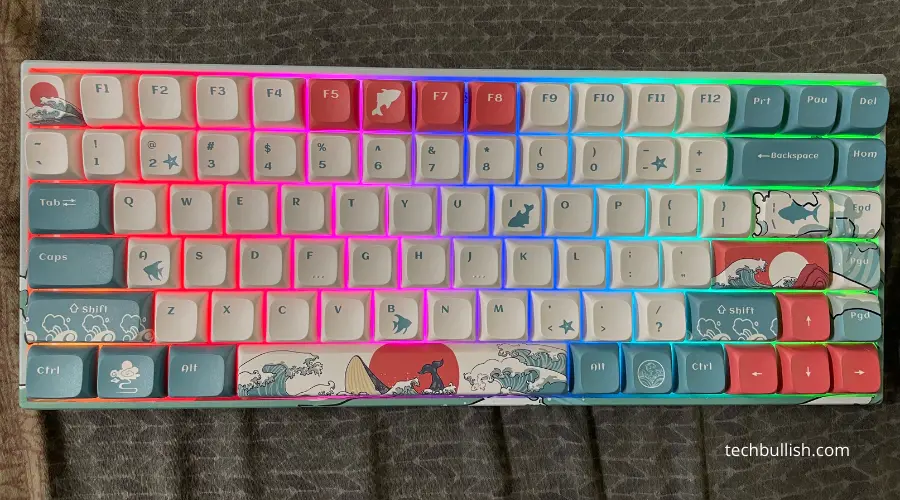 Battery Life(Rechargeable)
Summary
I love the smooth clicks of this keyboard. Every keystroke feels smooth. Also, the plus point is its rechargeable battery.
The M84 has a very responsive and fast keystroke response time due to the Gateron Linear switches.
Whether you choose between Gateron Yellow and Gateron Red from the Gateron switches range for this keyboard, you will get silent and fast actuation out of this keyboard.
The keys are also very comfortable to type on and they have a smooth feel. This keyboard is also very easy to use and it has a very user-friendly interface. The M84 is a great keyboard for gaming and it also works great for general office use.
The M84 is a great keyboard for anyone who is looking for a high-quality mechanical keyboard that is not loud.
Design and Features
The M84 keyboard has a very sleek and beautiful Coral Sea Theme design. It's made of high-quality materials and has a solid build quality. The keycaps are made of PBT plastic.
The keyboard also has a detachable USB cable. So, it can be used in both wired mode and wireless mode.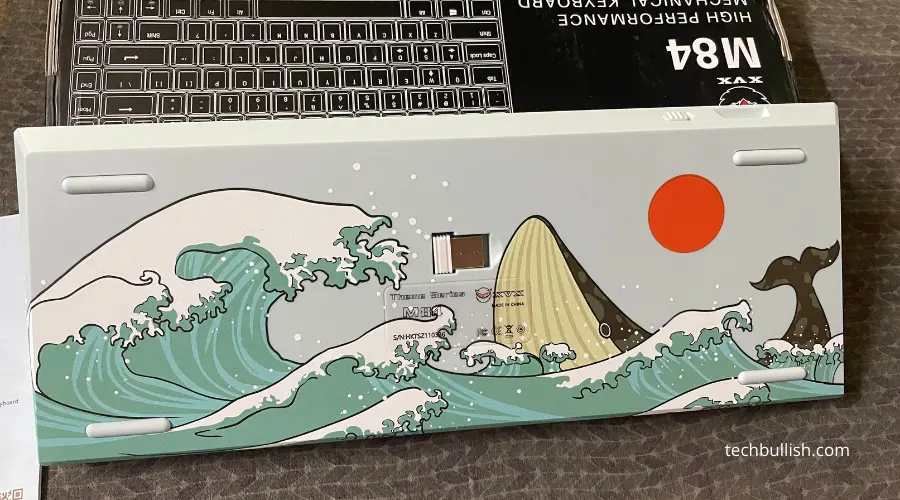 It also has a few different switch options like Gateon Yellow and Gateron Red.
The M84 keyboard has 19 RGB backlight modes, 9 colors selection, 5 brightness levels, and 4 customization modes. You can choose between solid, breathing, and wave lighting modes. You can also adjust the brightness of the backlight.
You can swap between these using keyboard shortcuts.
Performance
The M84 keyboard has great performance. The keys are responsive and have a good travel distance. The keyboard is also very durable. The keycaps are made of high-quality PBT plastic, which is known for its durability.
The M84 keyboard also has great battery life with its 1850mAh battery inside which is rechargeable.
It is awesome that I can charge by plugging the keyboard in wired mode using the USB Type C cable provided with this keyboard.
Features of XVX M84 Mechanical Keyboard
As a dedicated gamer, you know that having the right keyboard can make all the difference in your performance. This keyboard is built for gaming, with its durable construction, fast response keys, and customizable backlighting.
Plus, it comes with a host of other features that will help you take your gaming to the next level.
Here's a closer look at what the XVX M84 Mechanical Keyboard has to offer:
Durable construction: The XVX M84 Mechanical Keyboard is built to last, with a sturdy aluminum frame and reinforced keycaps.
Fast response keys: The keyboard's keys come with Gateron Yellow or Gateron Red mechanical switches and are designed for silent actuation and fast response, so you can keep up with the action in your game.
Customizable backlighting: The keyboard's backlighting can be customized to suit your gaming needs.
USB connectivity: The keyboard has USB connectivity, so you can connect it to your PC or laptop with its wireless connectivity using a 2.4 GHz connector.
N-key rollover: The keyboard's N-key rollover technology ensures that all your keystrokes are registered, no matter how many keys you press at the same time.
Ergonomic design: The keyboard's ergonomic compact design ensures that it's comfortable to use, even during long gaming sessions.
Rechargeable battery: It has a 1850mAh Rechargeable battery inside which would be used only while using on wireless mode.
If you're looking for a keyboard that can give you the edge in your game in a compact form factor, the XVX M84 Mechanical Keyboard is a perfect choice.
Pros and Cons of the XVX M84 Mechanical Keyboard
XVX M84 Mechanical Keyboard is a great addition to any computer setup. Its simple design and easy-to-use features make it a great choice for those who are looking for an affordable and reliable keyboard.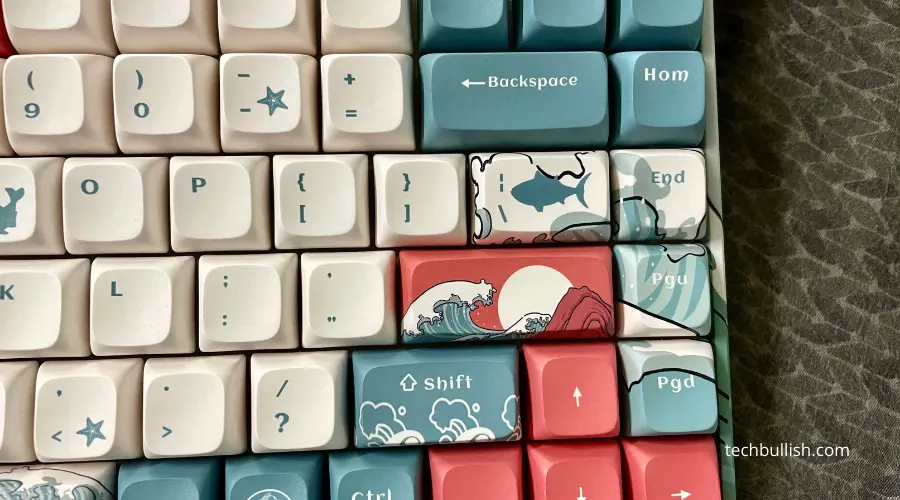 However, there are a few things to keep in mind before purchasing this keyboard.
Pros:
Simple and easy-to-use design
Affordable price
Travel friendly due to compact design
Compatible with most operating systems
The wireless mode also works great as the wired mode without any lags
Has a rechargeable battery that keeps recharging when in wired mode or charged separately.
You also get a keycap puller with this keyboard
Cons:
Not much cons
My Experience Using XVX M84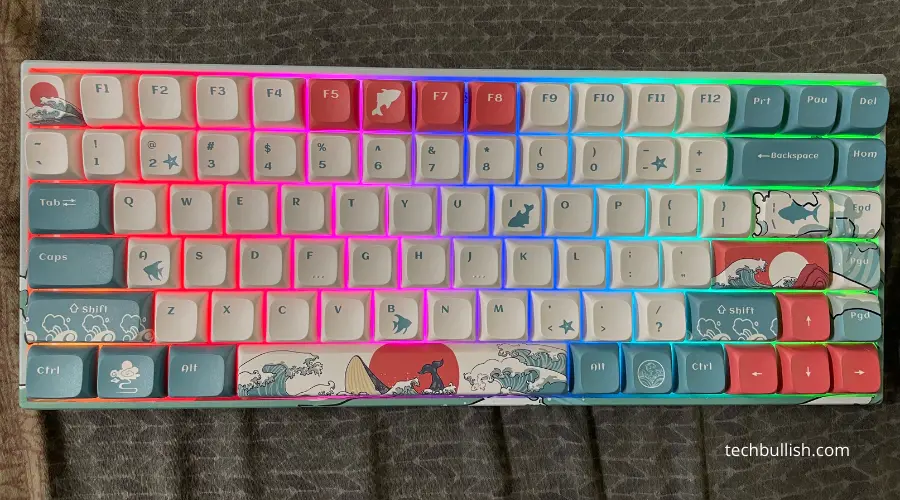 Before reviewing this keyboard, and looking at its design, I had high hopes for this keyboard, and it did not disappoint.
The M84 is a compact-sized 75% keyboard with a detachable USB cable, and it feels very solid and well-built. The keycaps are made of high-quality PBT plastic and have a nice textured finish. The keycaps are also backlit, which is a must-have for any keyboard.
The key switches are Gateron Yellow Switches, and they have a nice, buttery smooth feel. The keyboard also has a full N-key rollover, which is great for gaming.
The main highlight of the experience which amazed me was first its compact size, beautiful design, smoothness of the switches, and fast actuation.
Overall, I was very impressed with the XVX M84 Mechanical Keyboard. It feels very well-built and the key switches have a great feel.
The backlighting is a nice touch, and the full N-key rollover is great for gaming. If you're looking for a great mechanical keyboard, the XVX M84 is definitely worth considering.
My View: Should You Buy This XVX M84?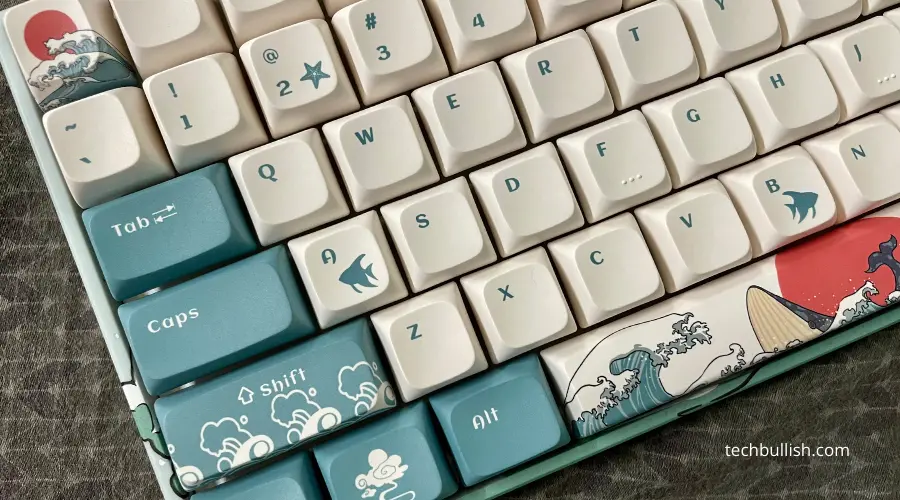 I have been using the XVX M84 Mechanical Keyboard for a while now and I absolutely love it! The build quality is great, the keys are extremely responsive and the backlighting is just perfect.
This keyboard gives you a soothing vibe with its Coral Sea Theme design. This design always amazes me whenever I look at it on my desk.
Isn't the Design Amazing?
I would definitely recommend this keyboard to anyone looking for a high-quality, mechanical keyboard.
Where to Find XVX M84?
XVX M84 is in one word "A High quality Affordable and Beautiful Mechanical Keyboard".
You can find this keyboard on Amazon.
Last update on 2023-10-02 / Images from Amazon Product Advertising API
Conclusion
Let's conclude the post on the XVX M84 keyboard review!
XVX M84 keyboard is a great option for both gamers and general users. It's a great keyboard for both gaming and general use.
It has a great design, good build quality, and great performance. It's also a great keyboard for people who are looking for a durable, reliable keyboard.
I hope you enjoyed reading the post.
Thanks for your feedback!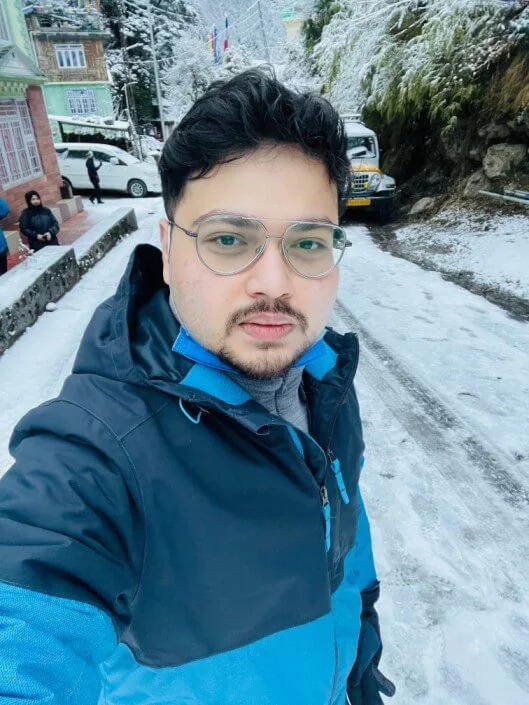 I'm Anirban Saha, Founder & Editor of TechBullish. With a B.Tech in Electronics and Communication Engineering, and 5+ years of experience as a software developer, I have expertise in electronics, software development, gadgets, and computer peripherals. I love sharing my knowledge through informational articles, how-to guides, and troubleshooting tips for Peripherals, Smart TVs, Streaming Solutions, and more here.