As a mechanical keyboard hobbyist, I will discuss in detail about one of the most popular Ducky keyboards to find out whether they are good.
In this post, I will also share with you my personal experience with Ducky keyboards and give you a comprehensive review of the best Ducky keyboards in the market.
So, if you're a tech enthusiast or a gaming fan, get ready to know everything about Ducky keyboards and why they are the best option for you.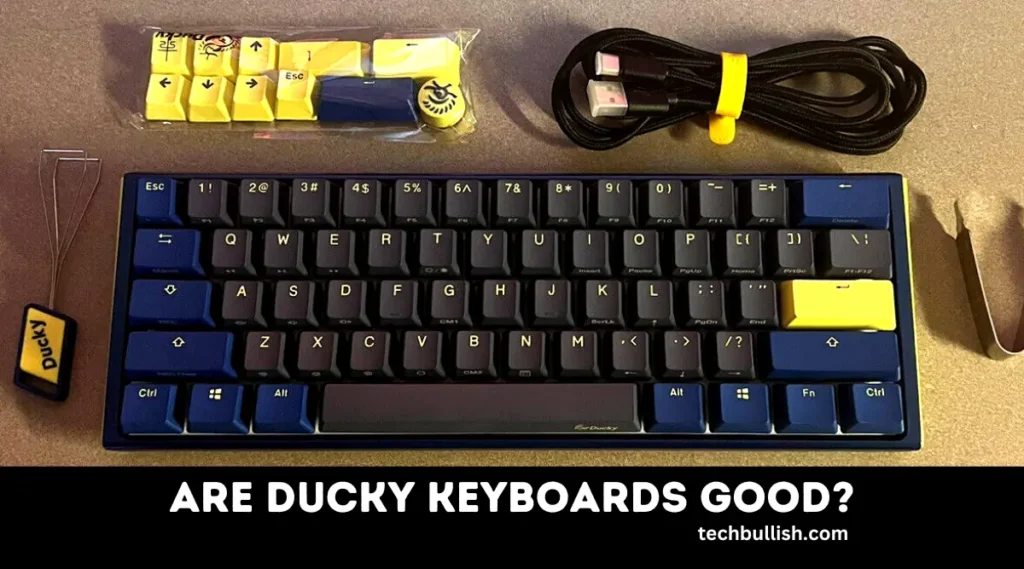 Let's dive into it!
Are Ducky Keyboards Good?
Ducky keyboards offer exquisite typing quality. The brand produces highly customizable keyboards at budget-friendly prices with several color variants and aesthetic options for your gaming setup.
They are also in collaboration with gamers like Tfue and Ninja. These keyboards are approved by the gamer's community at large. Gamers around the world obsessed with high performance, higher quality, and the best price are convinced by the gaming peripherals that Ducky keyboards offer.
Speed, layout, and added customization! You have it all in a Ducky Keyboard.
Customizable keycaps are one of the striking features of the Ducky keyboard. Available brands in the market like Corsair, Razer, and Logitech more or less have non-standard sizes for their keycaps.
It adds to difficulties when you want to replace them with the ones with the right fittings on your keyboard. This is not a problem with Ducky keyboards since they feature standard-size keycaps which can be replaced with new ones easily available in the market.
Another fact is the variety of colors Ducky keyboards offer. 'Frozen Liama' is the most popular one. This features a cyan, teal, and magenta colorway separating itself from black keyboards with RGB wave-affecting highlights.
For gamers, the TFUE-themed set of keycaps is a browny point in keyboard features. Ducky provides a free set of colored accent keycaps with all its keyboards. Their recent innovation is a new Chinese zodiac-themed color.
Ducky keyboards come in a number of sizes and layouts to cater to your desktop space. Their standard layouts are Full sized, TKL, and compact 60 percent. Ducky has keycaps designed for all their layouts. They have built-in firmware that helps you to easily install the software.
Ducky keyboards have powerful firmware that allows you to program and customize keys and layouts directly on board. You can edit the RGB lighting profiles directly without any software. Other than a plastic pre-built keyboard, Ducky also features Aluminum cases for extra weight, strength, and stability.
Are Ducky Keyboards good for gaming?
Ducky keyboards are excellent for gaming purposes. They have a perfectly etched space bar shining through the design enhances the versatility of these keyboards.
Its incredible latency suits competitive games making Ducky keyboards extremely popular for typing and gaming. Among Ducky keyboards, the best for gamers are a few regular choices like:
One 2 Mini, which has an exclusively designed layout for hardcore gamers Ninja & TFUE. This keyboard features a 60 percent layout including variant colorways and strong stabilizers by default.
It collaborates with HyperX Red gaming switches other than Cherry MX switches. It not only offers a compact design but also an edgy black & red colorway at a 1000Hz polling rate.
One 2SF Ducky keyboard is a great catch if you are a gaming keyboard enthusiast. It offers the same features as the One 2 Mini nut is one column wider than the Mini with a layout that has 67 keys. They come with super build quality and speed.
Ducky Keyboard is a Mechanical Keyboard……As a popular brand in producing simple and cutting-edge mechanical switch peripherals, Ducky is a respected brand in the Mechanical keyboard industry.
They manufacture highly customizable keyboards with excellent typing quality and color variants to suit your aesthetic choice for your gaming setup. However, there are some pros and cons of Ducky keyboards that resemble those of any mechanical keyboard.
Pros of Ducky Keyboards
Durability
Ducky keyboards are strongly built for users who spend long hours on the keyboard. These mechanical switches promise millions of keystrokes, unlike membrane keyboards that lack long time durability.
Responsiveness
Ducky keyboards have a higher level of responsiveness and accuracy because each of its keys has its mechanical switch. This lowers the chance of a missed keystroke even if multiple keys are pressed. They are excellent for both gamers and typists.
Customization
Specific changes can be designed on these keyboards, keycaps, layouts, and switches according to the user's preferences. They have programmable macro keys for specific in-game actions or commands.
Ergonomic
Ducky keyboards are often featured ergonomic with a split design or a wrist rest that can be helpful for gamers who play for long hours.
Typing Experience
The click sound and tactile feedback is generally a feature preferred by those who use keyboards for typing. It gives them a satisfying typing experience.
Compatibility & Aesthetic Appeal
Ducky keyboards are compatible with devices like PCs, Macs, and gaming consoles. They offer a premium look, and due to their style and aesthetics they add a high-value decor to a gaming set-up
Cons of Ducky Keyboards
Cost
These keyboards are a bit more expensive in comparison to an ordinary membrane or scissor-switch keyboards.
Noise Level
They may also be noisy due to their tactile feedback. If you prefer a soundproof keyboard for your sophisticated quiet workplace, a ducky keyboard should not be your choice.
Size
Due to their considerable size, they may be inconvenient if you have a smaller desk space.
Features
Ducky keyboards for their programmable keys and customizable backlighting tend to be a complex featured product for users who prefer basic designs in keyboards.
Compatibility
Check on its compatibility with your devices or operating system before purchasing a Ducky keyboard.
Best Ducky Keyboards
#1. Ducky One 3 Mini Classic Keyboard
Why did I choose this?
Ducky One 3 Mini keyboard is a decent product for the offered price and brand. Perfect for gaming, it is responsive, clean, and sounds nice. The stock keycaps are phenomenal with a unique shape and perfect size adding comfort for gaming enthusiasts.
This keyboard features Ducky's all-new QUACK mechanics design. It comes with a dual layer Hot-swap PCB with Kailh yellow hot-swap sockets.
Equipped with dual-layer high-grade silicon and EVA foam sound dampener, these One 3 cases can be designed in a variety of color options. They have thick PBT double-shot seamless keycaps and per-key programmable RGB.
With a detachable braided USB-Type-C cable and 3 level adjustable feet, this ducky keyboard has an improved PCB design, V2 stabilizers, and remapped Macro layout.
Pros
They have themed Double-Shot PBT keycaps.
Its sturdy build gives you a smooth typing experience.
Gamers have fun with its beautiful color.
Cons
It doesn't have software.
The LED indicators in this keyboard are distracting due to over-brightening.
DIP switch and some shortcuts don't work.
Last update on 2023-03-13 / Images from Amazon Product Advertising API
#2. Ducky One3 Classic Keyboard
These are premium-quality keyboards with a new bezel design. They come with Cherry MX keys and an RGB backlight. Ducky One3 Classic is extremely recommendable for home, office, and gaming for its PBT double-shot seamless key types and detachable USB Type-C cable.
This keyboard supports Duck Macro V2.0 and the mouse control functions. They come in two colors black & white. The keyboard has stain-resistant keycaps with a frosted surface.
It gives an awesome experience with stability and precision because of its perfect weight distribution design. Fine-tuned stabilizers give an exceptional typing experience.
Pros
It is very well-built.
These keyboards have exceptionally low click latency.
All keys are macro-programmable with RGB lighting.
Cons
These keyboards do not have any software and there is no space to have a wrist rest.
Last update on 2023-03-13 / Images from Amazon Product Advertising API
#3. Ducky One 3 SF Daybreak Keyboard
These are seamless and formed through a double-shot technique where two plastics are molded together. They are designed with optimized construction levels and authentic acoustics.
This hot-swappable mechanical keyboard comes with a detachable USB Type-C and dual-layer PCB. An interesting feature of this keyboard is its two-step keyboard feet that allow its setting in three different tilts.
Pros
Ducky One 3 SF keyboards have a unique stylish design
Gives a soft typing experience due to the silicon dampener
They offer excellent double shot PBT keycaps other than super on-board programming like light, keymaps, etc.
Cons
They lack wireless functionality
Have a lightweight plastic shell.
Last update on 2023-03-13 / Images from Amazon Product Advertising API
Conclusion
Let's conclude the post on whether are Ducky Keyboards good!
Overall, Ducky keyboards are an excellent choice for anyone looking for a high-quality, customizable keyboard. With standard keycaps, a range of colorways, and powerful firmware, these keyboards have quickly become a favorite among gamers and typing enthusiasts.