Most of us prefer wired gaming mice due to wireless gaming mice's performance limitations. But, now, with technological advancements and high-end sensors for wireless mice.
Razer and Logitech have made significant progress in terms of mouse sensors. If you want to compare Logitech G Pro Wireless vs Razer Viper Ultimate, then this is the right post.
Logitech G Pro Wireless and Razer Viper Ultimate offer a great gaming experience.
They both offer many features that gamers are looking for, such as a high-DPI sensor, on-the-fly DPI adjustment, and customizable buttons. But which one is the best?
This article will compare and contrast these two gaming mice and help you decide which one is the best for you.
I considered the Design, Sensor, Performance, and all aspects of determining better for your gaming.
Logitech has been a staple in the gaming industry for many years, with their popular G-series of peripherals.
On the other hand, Razer is also a big brand famous for their gaming peripherals and are known for their performance and durability.
Let's get started!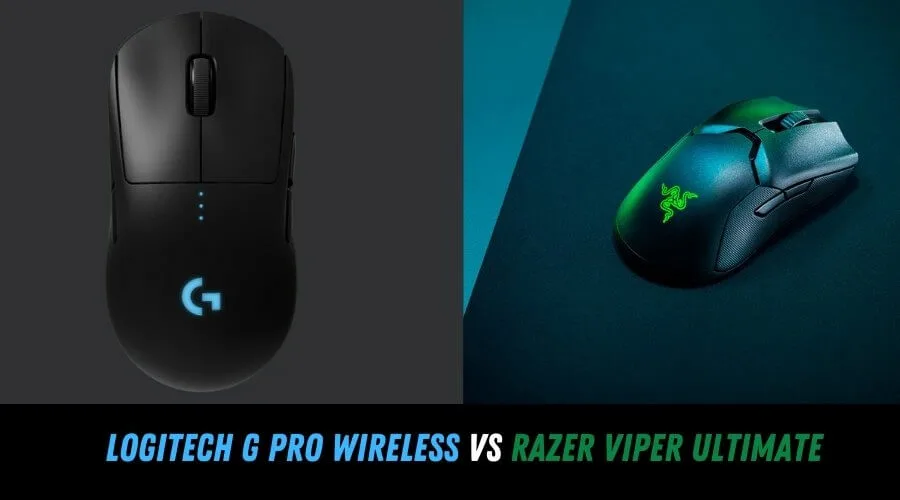 G Pro Wireless vs Viper Ultimate
| | | |
| --- | --- | --- |
| | G Pro Wireless | Viper Ultimate |
| Mouse Type | Wireless Mouse | Wireless Mouse |
| Size | Full-Size | Full-Size |
| Shape | Ambidextrous | Ambidextrous |
| Sensor | Hero 25K Sensor | Razer Focus+ Optical Sensor |
| Max DPI | 25600 | 20000 |
| Dimensions(Height x Width x Depth) | 4.92″ x 2.5″ x 1.57″ | 4.99″ x 2.27″ x 1.49″ |
| Weight | 80 g (Lightweight Mouse) | 74 g (Lightweight Mouse) |
| On board memory Profiles | 5 profiles on board | 5 profiles on board |
| Programmable Buttons | 4-8 buttons | 8 buttons |
| Grip Type | Better for Palm Grip Players | Better for Claw Grip and Fingertip Grip Players |
| Response Time | 1 ms | 0.2 ms |
| Software Support | G Hub | Razer Synapse 3 |
Source: Logitech & Razer Website
Logitech G Pro Wireless Review
G Pro Wireless mouse from Logitech is an excellent option for having all the advanced Wireless mice. G Pro Wireless mouse has an advanced sensor Logitech HERO which has a high-speed response rate of 1ms.
This mouse is designed well, and the mouse is well suited to be used with Palm Grip.
The GHub software helps customize mouse functionalities, RGB Lighting settings, macro assignments to 4-8 programmable buttons, etc.
You can load these settings in the G Pro Wireless mouse with 5 profiles on board for having different configurations for different games and applications.
In this video, find the detailed features of the Logitech G Pro Wireless.
Also, in this video, get to know about the gaming performance and how Logitech G Pro Wireless will feel in real life.
Features to look in G Pro Wireless
The most highlighting features of G Pro Wireless are:
It has HERO 16K Sensor with a 1ms response time and DPI support upto 16000.
It has excellent RGB color support that enhances its look.
The G HUB software support for the mouse's macro, profile, and lighting settings is present.
G Pro Wireless Mouse has a mechanical Tensioning system with Switches. It enhances the click feel and the lifetime of the mouse.
Logitech G PRO Wireless Gaming Mouse, Hero 16K Sensor, 16,000 DPI, RGB, Ultra Lightweight, 4 to 8 Programmable Buttons, Long Battery Life, On-Board Memory, Built for Esport, PC/Mac - Black
Made with and for Pro Gamers: Designed over two...
Lightspeed Wireless: With pro-grade USB wireless...
Hero 16K Sensor: Pro Wireless Logitech G gaming...
Last update on 2023-10-02 / Images from Amazon Product Advertising API
Razer Viper Ultimate Review
The Razer Viper Ultimate mouse is an excellent wireless mouse option from Razer, and Viper Ultimate is a lightweight mouse with superior performance.
In terms of looks, the Viper Ultimate looks great and enhances the look of your gaming space.
It works excellent with Claw Grip and Fingertip grip style for gamers. If you use these grips to hold your mouse, this mouse feels comfortable.
Features to look in Viper Ultimate
Razer Viper has the following great features to consider:
Razer Focus+ Optical Sensor provides excellent performance of 20000 DPI sensitivity, 650 IPS tracking speed, and 99.6% resolution accuracy on board.
Viper Ultimate has a response time of 0.2ms, which is impressive.
Battery life of up to 70 hours on a single charge (runs for a week with 10 hours/day of gameplay with single charge).
Razer Synapse 3 software support for macro, profile, and customization settings to bring out the best performance of Viper Ultimate.
Viper Ultimate is a lightweight mouse and weighs only 74 g.
Last update on 2023-10-03 / Images from Amazon Product Advertising API
Design
Razer Viper Ultimate has a great evolved proper Ambidextrous design. This mouse is well crafted to fit well in your hands, whether left-handed or right-handed.
Logitech G Pro Wireless also has a great design that ensures better to hold during gaming sessions. Also, the design with branding gives a modern look to G Pro Wireless.
The mouse looks beautiful and would enhance your gaming mood.
Sensor
The sensor in a mouse has evolved as the technology developed for the mouse. The mouse's sensor plays a vital role for gaming mouses as gaming involves precision and accuracy with speed.
Previously the wired mouse was only the best for professional gaming, and the wireless mouse used to lag a bit in gaming performance and efficiency.
However, with innovations, things have changed. Even the wireless mouse sensors are fantastic, with a faster response rate, good accuracy, and similar performance as a wired mouse.
Logitech Hero 25K sensor:
The Logitech Hero sensor evolved to bring out the potential of wireless mouse gaming. The Logitech Hero sensor helps achieve a response rate of 1ms, which is excellent.
The HERO sensor is optimized for professional gaming and has no smoothening, acceleration, or filtering enabled in it.
This sensor is remarkable to consider, and G Pro Wireless truly performs well with Logitech Hero 25K sensor.
Razer Focus+ Optical Sensor:
Razer is known for the excellent quality of gaming peripherals. For wireless mouse options, they designed Razer Focus+ Optical Sensor.
These sensors are so good that you forget to use a wireless mouse for gaming.
Performance
The Logitech G Pro wireless performance is excellent considering the design, customizable buttons, and mainly the HERO sensor.
The overall combination of all these helps to blend in a very well-defined performance for gaming.
For Razer Viper Ultimate, the performance is the focus. The response rate is 0.2ms which is unbeatable for mouse clicks.
The build quality, durability, sensor quality, and overall performance are excellent.
Battery life
Both the mouse G Pro wireless and the Razer Viper Ultimate are wireless.
The exciting thing is that both the mouse are rechargeable. So, you do not have to worry about replacing new batteries.
This Hero sensor in Logitech G Pro Wireless consumes 10X less power than the PMW3366.
Battery Life of Logitech G Pro Wireless: Battery life is 48 hours with default lighting. Without lighting, the battery lasts for 60 hours, and you can recharge the battery again.
Battery Life of Razer Viper Ultimate: Battery life of Razer Viper Ultimate is up to 70 hours. Then you can recharge again.
So, in terms of Battery Life, the Razer Viper is better.
Weight
For Gaming mouses, pro gamers prefer to play with a lightweight mouse with lower DPI settings or a heavy mouse with high DPI settings. This helps to get better control and accuracy.
Logitech G Pro Wireless weighs 80 g, and Razer Viper Ultimate weighs 74 g. Both are lightweight mouse options from two excellent brands.
Razer Viper Ultimate is a bit lighter option to consider in terms of weight, but that is not a big deal-breaker considering a minor weight difference.
Software
Software plays a vital role in configuring gaming mouse profiles, setting up the RGB light settings, customizing the programmable buttons, and even the DPI customization.
GHub with Logitech G Pro Wireless: Logitech has great software called GHub to do all the customization needed for the G Series of gaming mouses.
The G Pro Wireless supports the Logitech G Hub software and is customized with 5 profiles on the onboard memory
Razer Synapse 3 for Viper Ultimate Mouse: Razer also has a software Razer Synapse 3 that helps customize the gaming mouse's settings.
The Razer Viper Ultimate has 5 profiles onboard memory to be configured for different games and softwares.
You can configure the 8 customizable buttons present in this mouse with this Razer Synapse 3 software.
Downsides to look into
Both the G Pro wireless and Razer Viper Ultimate mouses provide the best performance to help improve our gaming performance.
I don't feel there are any highlighting cons to mention for these mouses at this price point.
Which is the better between Logitech G Pro wireless and Viper ultimate?
G Pro Wireless and Viper Ultimate are great lightweight mouses from Logitech and Razer, respectively.

In terms of performance, both the mouse performs almost head to head. However, the Razer wins the mark with a blazing fast response time of 0.2 ms for response time.

Logitech G Pro's response time is not at all slow, considering 1ms. You usually would not notice any differences.
Last update on 2023-10-03 / Images from Amazon Product Advertising API
My Choice: I would highly recommend going for the Razer Viper Ultimate at Amazon.
FAQs on G Pro Wireless vs Viper Ultimate
Is Razer Viper ultimate wireless worth it?
Razer Viper Ultimate is a great gaming mouse option for Gaming Professionals playing FPS games.
Is the Viper ultimate bigger than the Viper?
Viper Ultimate has the exact dimensions as the Razer Viper.
Is the G Pro Wireless still good?
G Pro Wireless is excellent for Games, and even for all kinds of tasks you can do with your mouse.
Is G Pro Wireless Rechargeable?
G Pro Wireless is rechargeable, and the battery lasts for 48-60 hours on a charge.
Conclusion
Let's conclude the Logitech G Pro Wireless vs Razer Viper Ultimate post!
I like both the Logitech and Razer for the excellent high-precision products they manufacture, and I am impressed by the high quality of performance both of these mouses deliver. For an average user, these differences won't matter much to consider.
The Razer Viper Ultimate is better for gamers who want a wireless gaming mouse, and it's an excellent choice for gamers of all levels, from casual players to professional gamers. If you're looking for a high-quality gaming mouse that won't let you down.
I hope you enjoyed reading the post.
Thanks for your feedback!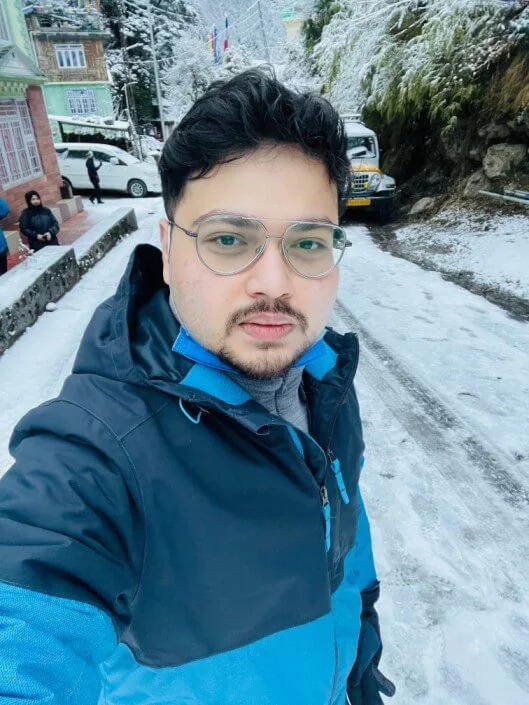 I'm Anirban Saha, Founder & Editor of TechBullish. With a B.Tech in Electronics and Communication Engineering, and 5+ years of experience as a software developer, I have expertise in electronics, software development, gadgets, and computer peripherals. I love sharing my knowledge through informational articles, how-to guides, and troubleshooting tips for Peripherals, Smart TVs, Streaming Solutions, and more here.