The Holy Panda switch has been making waves in the mechanical keyboard community since its release.
Some people are calling it the best tactile switch to hit the market in a long time.
Holy Panda switches are made with the base from Halo Clears or Halo Trues, and the housing found on Invyr Panda switches.
This unique combination makes them snappy and tactile. This means that you can now find the perfect switch for your mechanical keyboards, regardless of what type of gamer you are.
Why Should you Trust Me? Hi, I am Anirban Saha, an Engineer having a Specialization in Electronics and Communication Engineering. I have experience in Smart TVs, Electric circuits, and Computer peripherals.
Let's get started to explore the Holy Pandas!
What Are Holy Panda Switches?
Holy Panda switches are a combination of materials of two popular switches, the Halo switch and the Invyr Panda Switch.
They are made using the base from Halo Clears or Halo Trues, and the housing found on Invyr Panda switches. So, they combine the best of two worlds.
The holy pandas are crisp in clicks and have a great tactile feel which is worth noting. The Holy Panda name itself sounds great to have a switch.
Holy Panda Switches Specifications
| | |
| --- | --- |
| Manufacturer | Drop |
| Switch Type | Tactile |
| Material of top housing | Polycarbonate |
| Material of Bottom housing | Nylon |
| Actuation Force | 67g |
| Mount type | Plate Mount |
| Switch Stem | Halo Clear/Halo True |
| Switch Housing | Invyr Pandas |
Holy Panda Switches Review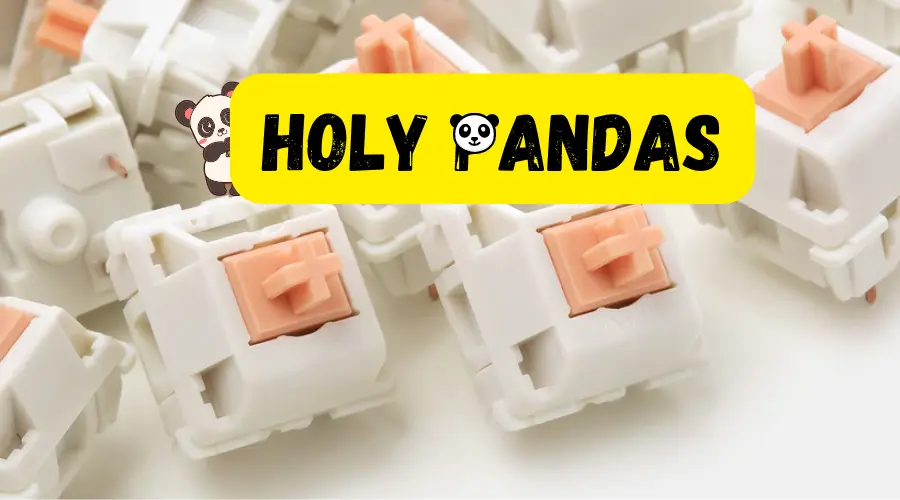 The Original Holy Pandas have a unique feel, tactile feel, and snappy experience that leads it ahead of any other switches out there.
The classic Holy Panda switch is made with Halo true stem or Halo Clear stem and the top housing on Invyr Panda switches.
The main thing that catches attraction to the Original holy panda is its tactile bump. Every time you will click you will notice how snappy they are.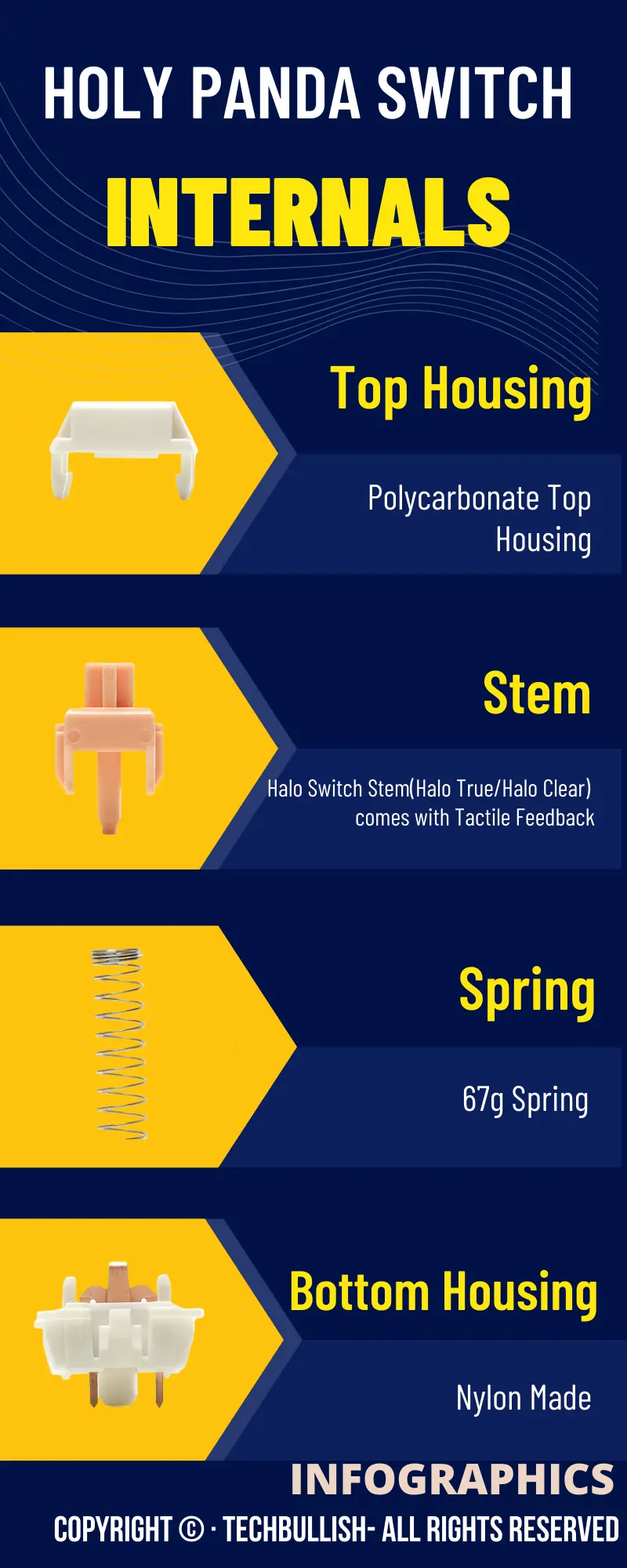 Switch Build
The bottom is made of nylon material and is opaque in Salmon color. The top housing is polycarbonate, which is good.
Durability
Holy Panda has created a switch that is incredibly durable and can take a lot of heavy usage.
Holy Panda's unique combination of Invyr Panda housing and the base of Halo clear or Halo trues makes them much more durable as the switches that form the Holy Pandas are very much durable.
These switches are made of quality materials and the end result is a durable keyboard that will serve its user for years.
This makes them perfect for gamers and people who use their keyboards a lot.
Switch Feel
The switches have a higher amount of actuation force which is 67g.
This means you need to press harder to make the clicks which can eventually make your fingers fatigued.
However, the experience is not so. You will feel great typing using the Holy Panda Switches, even better than other tactile Brown switches.
This is one of the snappiest tactile switches. Also, they come non-lubed from the factory which makes them feel more snappy than most tactile switches.
Sound Profile
The sound from the Drop Holy Pandas is clean and not much noisy. They are very snappy and give you good feedback from the clicks.
Gaming Performance
One of the main benefits of Holy Panda switches is their gaming performance. The Holy Pandas' clicking experience is very snappy and has an excellent tactile experience.
If you type for long or play games extensively, the clicks are very satisfying.
They are noticeably faster than traditional Cherry MX switches, and many people find them more responsive overall. This makes them a great choice for gamers who want to get an edge on their opponents.
If you're looking for an amazing gaming experience, then you need to check out Holy Panda switches. They're sure to revolutionize the way you play your favorite games!
Typing Performance
You will enjoy typing on this switch. The Holy Pandas from Drop comes to Unlubed and works fine. You can even lube the switches to make them as per your typing experience and tactile need.
How does Holy Panda Feel?
The Holy Panda feels amazing to type on. These switches have an opaque stem of Salmon color, and it works great out of the box without any additional lubing.
The experience of snappy and tactile switches from Holy Pandas is fantastic. It is better than any brown tactile switches available.
Are Holy Pandas Clicky?
Holy Pandas are not clicky switches and they do not sound like a clicky switch either. They give good tactile feedback without much noise.
Are Holy Panda Switches good?
A mechanical keyboard's switch can be clicky, tactile, or linear. The Holy Pandas are the tactile switches. Tactile switches give the clicking feedback without the loud noise present in the clicky switches.
The Holy Pandas switches are excellent in terms of tactile feedback. The response from the switch is very much satisfying, and you will feel that the switches are snappy.
The switch feels like the perfect balance of clickiness and sound.
Also, the holy panda switches do have not a noticeable scratchy sound when you click them. This matters a lot when you type a lot, and this takes care of any scratchy or loud clicking noise.
Other Holy Panda Variants: Invyr VS Yok VS Glorious panda switches
There are other similar Panda switches like the holy panda switch, which includes the Invyr Panda, Yok Panda, and the Glorious panda switches.
Yok Holy Panda switch
The Yok Holy Pandas are made from the Halo True or Halo Clear stem by combining them with the YOK panda switch. The Yok panda is a linear switch that combines with a tactile switch stem to get a snappier tactile experience.
Drop+Invyr Holy Pandas
Drop worked alongside Invyr in the creation of their own version of the "Holy Panda".
Glorious Pandas
The Glorious Pandas are a product of Glorious. They are made from the original tooling of Invyr Pandas which means they use the original Invyr Pandas housing molds and improve their internals.
They have changed and improved the stem(made of POM which is Polyoxymethelyne sourced from Japan) to make it a better tactile experience.
You get a choice to choose Lubed and Unlubed versions of them.
They have an actuation force of 67g. The body is made of polycarbonate material. The experience of clicks has both crisp and smooth elements in it making it an amazing option.
Also, these are much cheaper than the Holy Pandas, as they are available in a 36 qty pack and cost around $0.60 per switch.
Are glorious pandas and Holy pandas the same?
Holy Pandas and Glorious Pandas are different. Holy Pandas use the stem from Halo Clears or Halo Trues.
In contrast, the Glorious Panda switch has its own manufactured stem.
The Holy Pandas come unlubed, whereas the Glorious Pandas come in unlubed and lubed variants. The lubed variant uses the G Lube. Know more about Glorious Pandas vs Holy Pandas here.
How to make Holy Panda Switches?
To make Holy Panda switches here are the materials you would require:
Any Type of Panda Switches (YOK/INVYR/GSUS etc.)
Halo Clear/True Switches
Switch Opener/Small Screwdriver
The Original holy pandas are made of the Invyr holy pandas. However, you can use any of the Panda variants.
Here are the steps you need to follow to build your own version of Holy Panda switches.
Step #1. Opening the Halo Clear/Halo True for the Stem
You can take the help of a switch opener to open your Halo Clear/ Halo true switch. You can also use a screwdriver but a switch opener would be always better. Open the switch carefully and take the stem out of it to use it for making the Holy Panda switch.
Step #2. Opening the Invyr Panda Switches for the Base
Now, take the Invyr Panda switch and open it using a switch opener or a screwdriver. To open it you need to press the side joint that would open the housing of the switch.
Slowly, detach the base of the switch and remove the Invyr Panda stem.
We will use the housing of the Invyr Panda switch and we will use the spring of the Invyr Panda also. This is the standard way, you can also use another spring or mechanical switch but that would make the clicking experience vary.
Step #3. Assembling to make the Holy Panda Switches
Now, on the housing of Invyr holy panda, put the stem of the Halo switch which we got in step #1.
Now, we can place the top housing of the Invyr Panda back.
Through these steps, we finally made Holy Panda switches.
How much are holy panda switches?
Holy Panda switches are available in variants of 70pcs, 90 pcs, and 110pcs. The average cost of Holy panda switches comes to about $0.99-$1.1 per switch.
The price may fluctuate and change over time. However, most of the time it stays around this range. You may also get a good discount during the sale.
Keyboards with Holy Panda Switches
You will not find any keyboards directly with Holy Panda switches. However, you can customize your mechanical keyboard by purchasing a set of Holy Panda switches separately.
Where to buy the Holy Panda Switches?
The Holy Panda Switches are available from Drop.com. They also sell on Amazon.
Last update on 2023-09-27 / Images from Amazon Product Advertising API
Holy Panda Switches FAQs
Are Holy pandas plates mounted?
The Holy Pandas are plate-mounted switches and would work with any circuit board.
Are Holy Panda switches loud?
Holy Panda switches are tactile. Being tactile means that the Holy Panda switches are louder than the linear switches.
Are Holy Panda switches linear?
Holy Panda switches are not linear. They are of the tactile type of mechanical switches.
Conclusion
Let's conclude the post on Holy Panda Switches!
Holy Pandas will be a great choice if you like the tactile type of mechanical switches.
With the remaining leftover parts from the Holy Pandas, another type of switch is created of linear type, known as the Unholy Pandas.
I hope you enjoyed reading this post.
Thanks for your feedback!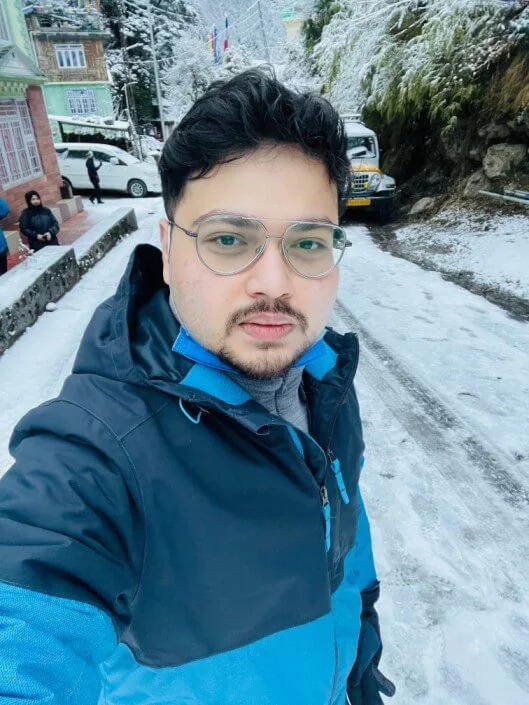 I'm Anirban Saha, Founder & Editor of TechBullish. With a B.Tech in Electronics and Communication Engineering, and 5+ years of experience as a software developer, I have expertise in electronics, software development, gadgets, and computer peripherals. I love sharing my knowledge through informational articles, how-to guides, and troubleshooting tips for Peripherals, Smart TVs, Streaming Solutions, and more here.