Some trendy names of switches come in the tactile segment, the Zealios V2 and the Holy panda.
If you are looking to compare the Zealios v2 vs Holy Panda, then this is the right post.
Why Should you Trust Me? Hi, I am Anirban Saha, an Engineer having a Specialization in Electronics and Communication Engineering. I have experience in Smart TVs, Electric circuits, and Computer peripherals.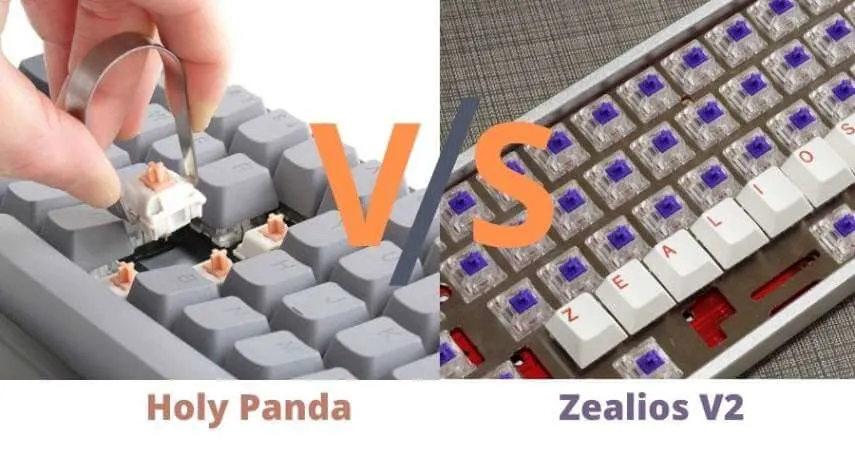 Let's dive right into the comparison!
Zealios v2 vs Holy Panda
| | | |
| --- | --- | --- |
| | Zealios V2 switches | Holy Panda switches |
| Switch Type | Tactile | Tactile |
| Actuation Force | 62 g, 65g, 67g, 78g (Bottom out force) with 4 variants of Zealio v2 | 67 g |
| Housing Outer Transparency | Transparent Housing | Opaque Housing |
| Mounting type | Plate Mounted | Plate Mounted |
What are Zealios v2 switches?
Zealios V2 is a tactile mechanical switch from Zeal PC. The Zealios v2 is a very efficient switch in the tactile mechanical switch league.
The Zealios v2 switches have transparent housing and hence are great for RGB keyboards.
What are Holy Panda switches?
Holy Panda switches are made from Halo Clears or Halo Trues, and the housing is found on Invyr Panda switches.
These combinations result in one of the tremendous tactile switches, which is the Holy Pandas.
It produces a sharp bump after a click, which makes it excellent for tactile switch fans.
The remaining components of the Holy pandas are used to create another switch known as the Unholy Pandas.
Build quality
The Holy pandas pack with solid build quality as it has a housing of Invyr Panda. On the other hand, the Zealous v2's build quality is also appreciable. It is durable for heavy usage and gaming.
Performance
The holy Pandas has a bit of pre-travel whereas the Zealeos v2 does not have a pre-travel. Also, the Zealeos v2 switches are smoother than the holy pandas.
For regular performance, both would be great for you.
Zealios V2 Review
Zealot v2 is an excellent switch for people who love tactile switches on mechanical keyboards.
The tactile switches are less noisy than the clicky switches like the blue switches. However, they have a tactile bump when you press the key. You will feel a noticeable feedback response from the switch.
The switch would feel great for gaming, typing, or any kind of work you do.
It comes in 4 variants which are classified according to the bottom-out force of the switches like 62g, 65g, 67g, and 78g.
You can choose from these variants.
Overall, I liked the combination of great tactility, smoothness, and a noticeable bump with a satisfactory feeling for the Zealios v2 switches.
Here is the sound comparison of the Zealios v2 stock, lubed and lubed & filmed switches.
Holy Panda Review
The Holy Pandas switches have a unique feel and have a balance between the clickiness and the sound of the switches.
The bottom is made of nylon material and is opaque. The top housing is polycarbonate which is good.
The Holy Pandas' clicking experience is very snappy and has a good tactile experience. If you type for long or play games extensively you will find the clicks to be very satisfying.
You will enjoy typing on this switch. The Holy Pandas from Drop comes to Unlubed and works fine. You can even lube the switches to make them as per your typing experience and tactile need.
The switches have a higher amount of activation force which is 67g. This means you need to press harder to make the clicks which can eventually make your fingers fatigued.
However, the experience is not so. You will feel great typing using the Holy Panda Switches even better than other tactile Brown switches.
Overall, I liked the tactility, responsiveness, and consistent clicks of the Holy Pandas.
My View
Though I liked both the switches and I feel they are equally comparable. However, I feel the Zealios v2 has an extra edge as it has a rounded tactile bump and a smooth yet tactile feeling with every click.
I am also happy with the Holy Pandas' tactility and responsiveness of the switches.
FAQs on Zealios v2 vs Holy Panda
Q. Are holy pandas more tactile than Zealios?
Ans. The Zealios v2 is more tactile and has a round tactile feel than the Holy Pandas.
Q. Do Holy pandas have Pretravel?
Ans. The Holy pandas have a minimal pretravel of 1-2 mm.
Q. Are the Holy Pandas tactile?
Ans. Holy Panda switches are tactile switches with a good tactile and snappy experience typing. These switches have a tactile bump and are great for gaming and office work.
Conclusion
Let's conclude the post!
Whether you choose the holy pandas or the zealous v2, your choice won't be bad either.
Also, you won't be sacrificing much if you choose one of them.
There is another great switch from the Panda lineup is Glorious Panda which is another great tactile switch. You can check the comparison of holy panda vs glorious panda.
Thanks for your feedback!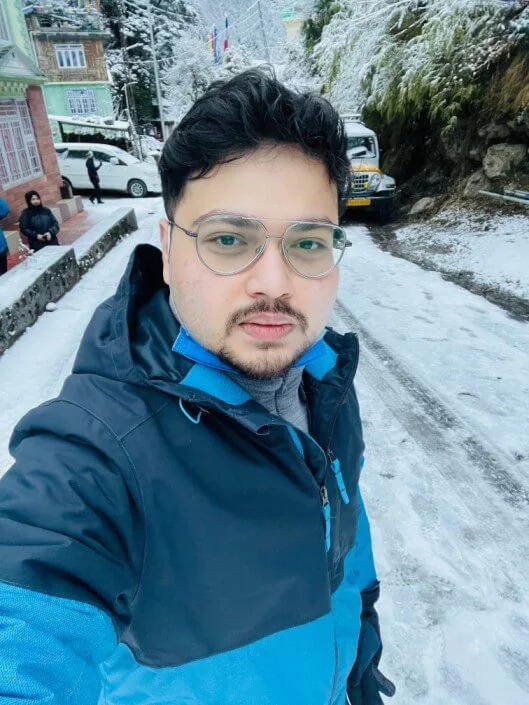 I'm Anirban Saha, Founder & Editor of TechBullish. With a B.Tech in Electronics and Communication Engineering, and 5+ years of experience as a software developer, I have expertise in electronics, software development, gadgets, and computer peripherals. I love sharing my knowledge through informational articles, how-to guides, and troubleshooting tips for Peripherals, Smart TVs, Streaming Solutions, and more here.